ACUPUNCTURE NYC
Acupuncture heals by balancing energy within the body. Don't let the idea of needles put you off — most patients barely feel a thing as the hair-thin needles go in. And despite the fact that they bear a certain resemblance to pin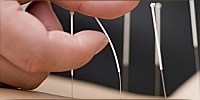 cushions while getting treated, our patients report that the experience is quite relaxing.
At the YinOva Center all of our acupuncturists are licensed and board certified. The needles we use are hair-thin and are designed not to cut the skin. They are inserted gently and shallowly and the experience of having acupuncture is in no way like having an injection.
While each person experiences acupuncture differently, most people feel only a minimal amount of sensation as the needles are inserted. Once the needles are in most of our patients tell us that they experience a feeling of relaxation and well-being that lasts for many hours after the treatment.
Find out more about what acupuncture feels like, from acupuncturist and Clinic Director, Jill Blakeway.
History of Acupuncture
Acupuncture originated in China about 3,500 years ago and remains one of the oldest, most commonly used systems of healing in the world. Chinese medicine is still the primary medical system for 1/4 of the world's population. Although its use spread throughout Asia, little was known about it in the West until President Nixon's groundbreaking visit to China in 1971 when accounts of the use of acupuncture for pain control appeared in the New York Times.
Since then there has been a rapid growth in the awareness and use of Chinese Medicine in Western countries. There are several reasons for this rapid rise in popularity. Efficacy, word of mouth and copious clinical research supports the use of acupuncture for a variety of conditions.
In the late 1970s, the World Health Organization recognized that acupuncture and Oriental medicine can be used to treat nearly four dozen common ailments, including neuromusculoskeletal conditions (such as arthritis, neuralgia, insomnia, dizziness, and neck/shoulder pain); emotional and psychological disorders (such as depression and anxiety); circulatory disorders (such as hypertension, angina pectoris, arteriosclerosis and anemia); addictions to alcohol, nicotine and other drugs; respiratory disorders (such as emphysema, sinusitis, allergies and bronchitis); and gastrointestinal conditions (such as food allergies, ulcers, chronic diarrhea, constipation, indigestion, intestinal weakness, anorexia and gastritis).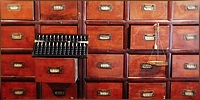 Recently there has been a rise in the use of acupuncture to enhance fertility and to support patients during IVF treatment. 

Acupuncture dramatically improves pregnancy rates in women undergoing IVF — A study in Germany that was published here in the USA divided 180 women who were having IVF into two groups of 80 women. One group had IVF with acupuncture and one group had IVF without acupuncture. The group that had acupuncture had a pregnancy rate of 42.5% versus the group that had no acupuncture that had a pregnancy rate of 26.3%. That's almost a 50% better outcome in the acupuncture group. You can read more about that study here.
It also seems that acupuncture has a normalizing effect on reproductive hormones as explained in this study here, which discusses the effect of acupuncture on the Hypothalamic-Pituitary-Ovarian Axis and concludes that acupuncture can regulate abnormal HPOA function.
In 1997, a consensus statement released by the National Institutes of Health found that acupuncture could be useful by itself or in combination with other therapies to treat addiction, headaches, menstrual cramps, tennis elbow, fibromyalgia, myofascial pain, osteoarthritis, lower back pain, carpal tunnel syndrome and asthma.