ACUPUNCTURE.  CHINESE MEDICINE.  NATUROPATHY.  WELLNESS.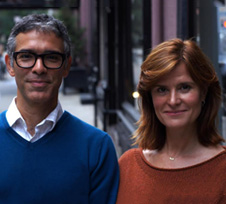 The YinOva Center is home to NYC's best acupuncturists and health practitioners, led by husband-and-wife team Jill Blakeway and Noah Rubinstein. The New York Times named Jill and Noah as two of New York's best acupuncturists and the work of the whole YinOva team has been featured widely on TV and radio and in newspapers and magazines.
Together they have created a unique approach to healthcare that combines the best that Eastern and Western medicine has to offer. The YinOva Center is rooted in the wisdom of traditional Chinese medicine, adapted to the needs of modern New Yorkers. We've been practicing this way since 1999 and we call what we do the YinOva Method.