We first tasted zucchini pasta at a raw food restaurant a few years ago and were blown away by how similar it is to regular noodles only with some very notable health benefits. This article compares regular pasta to the veggie version and reveals that a normal bowl of pasta has 581 calories and 121g of carbs whereas a similar portion of zucchini pasta has just 30 calories and 6.2g of carbs. Say no more!
The easiest way to make vegetables into long strings similar to noodles is with an inexpensive piece of kitchen equipment called a spiralizer. If you're a fan of healthy food it's worth the investment, but if you're on the fence about buying one, this article from one of our favorite blogs explains how to spiralize vegetables without a machine.
Ingredients
For the noodles
2 medium-sized zucchini
1 tbsp coconut oil
a pinch of salt
For the sauce
1 avocado, peeled and chopped
1/2 cup basil
1/4 cup pine nuts
1/4 tsp salt
2 tbsp olive oil
3 tbsp water
Juice of half a lemon
For the topping
10 shrimp
1/2 tbsp coconut oil
3/4 cup arugula
Recipe
First, make your zucchini noodles. This website has a nifty video explaining how it's done. It really couldn't be simpler. Just wash the zucchini and push it through the spiralizer machine to form long noodles. Cut these noodles with scissors to make them more manageable.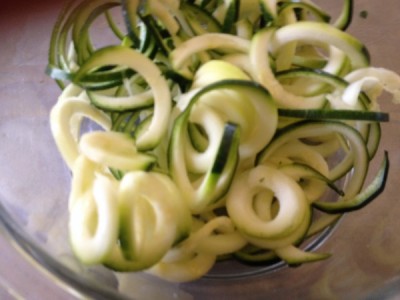 In a blender mix together the avocado, basil, pine nuts, salt, olive oil water and lemon juice to form a smooth paste.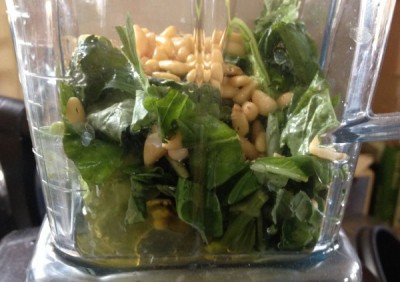 Fry the shrimp in 1/2 tbsp coconut oil until they are just cooked through.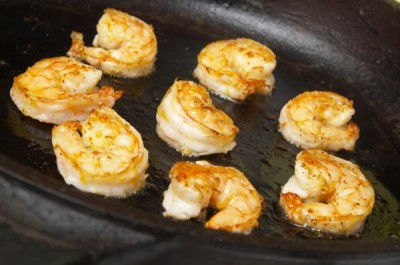 At the same time sauté the noodles in 1 tbsp coconut oil adding a pinch of salt. Cook for about a minute on high heat until the zucchini has wilted. Turn off the heat and add in the sauce and the arugula allowing the arugula to wilt in the residual heat and the sauce to warm through.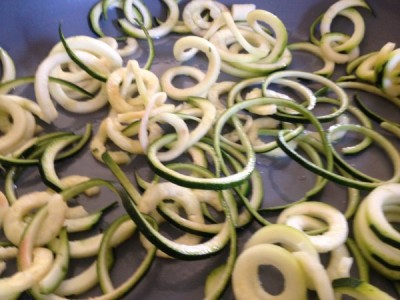 Serve with the shrimp on top.