It is a very chilly evening and the mercury is expected to keep dropping. With this in mind, I thought we'd head south for dinner and that I'd try my hand at making Pozole, a hearty soup from Mexico.
Pozole is an ancient stew that dates back to pre-Columbian Mexico. Traditionally, it is made with pork.
The thing that makes this soup different from others, however, is Hominy – yes, as in grits. This is corn that has been treated to remove its hull or germ. In addition to practical reasons for doing this, namely that it prevents the corn from sprouting while in storage, this process gives the corn a firm chewy texture that can hold its own in a long-simmering stew. It also enhances the corn's nutritional value, making niacin and other vitamins more readily available.
Another distinctive element of this stew is the seasoning – specifically, layers of different peppers for heat. In our family, we often go for incendiary spiciness and in pozole, it balances well with the classic, cooler garnishes. But if the heat has no depth, it just hurts, so I used 5 different kinds of pepper, added at different points, to make this robust soup hum. Here is the recipe to feed four hungry people.
Pozole
(Serves 4)
Stew
2 Anaheim Peppers
1/2 Serrano chili, seeded
1 ½ – 2 lbs Chicken (you can also use tempeh or tofu)
1 medium onion chopped
½ lb of dry Hominy cooked (you can also use 2 cans prepared)
1 Head Garlic
Olive oil
4 Cups of Chicken Stock (or vegetable)
14oz can fire roasted tomatoes
3 tsp Flour
1 tsp Cumin
1 ½ tsp Oregano
1 ½ tbs Chili powder
½ tsp Tepin pepper (about 4 berries)
½-1 tsp Ground Morita pepper (alternatively you can use a tbs of chipotle in adobe sauce)
Salt & Pepper to taste
Garnishes
Lime
Avocado
Shredded Cheese
Cilantro
Radish
Iceberg lettuce
Tomato
Hot sauce
Get the good smells going…
Preheat your oven to 375 F.
Cut the top off the garlic, drizzle a little bit of olive oil and a pinch of salt and wrap it in foil. Place this (cut side up) on the middle rack of your oven and let it cook for about 40 minutes.
Take the Anaheim peppers and roast them on the top rack of the oven until they soften and their skin is charring a little. This will be about 15 minutes with periodic turning. When they are done carefully transfer them to a cutting surface. When cool enough to handle, cut them open, and de-seed the peppers. Use caution while handling these – and all peppers – as they can irritate the skin.
After cleaning them, chop them up to be added later.
Prepare the Chicken (or other protein by cutting it into roughly 1-inch pieces and lightly salting.
Begin to brown the chicken by heating a ¼ cup of olive oil in a Dutch oven or other large pot. You'll want to sear the meat on all sides without overcrowding the pot so you may have to do it in batches.
As it browns remove and set aside, leaving any fat or oils in the pan.
Reduce the heat to medium and add the onion. Let this cook, stirring occasionally for about 3-4 minutes until it softens and turns golden.
Add the aromatics: Mix in the Chili Powder, Oregano, Cumin, and Morita Pepper and let these cook until fragrant (about 1 minute) then add the flour and mix in amongst the spices for another minute or so.
Now put the browned chicken back in the pot and add the tomatoes along with the Anaheim pepper and half of the seeded Serrano. (Check the Anaheim pepper for flavor and if it is very spicy, don' put it all in at once. You can always add heat later.) Get the meat nicely coated with the seasoning.
Take the Garlic – which should be out of the oven and cool enough to handle – and squeeze it into the pot, mixing it well along with a dash of Salt and Black pepper.
Add the Hominy and Stock.
Add Tepin Pepper
Turn the heat down to a low simmer and let this cook for about 3 hours to meld all the flavors. Along the way, you can add spices to taste. Just before serving, squeeze the juice of 1 lime in and stir in.
One of the fun parts of pozole is the Garnish. We used avocado. cilantro, radish, and lime but you can use any or all of the above.
A note on spicing up your pozole. If you don't want your stew too hot, cut the peppers down by half and you should still get the warmth and flavor but a bit more gentle. The tepin peppers in this recipe are optional. If you use them, the flavor is fantastic, but they are super hot so be cautious. Handling peppers is tricky enough – you don't want to ruin your meal by using too much.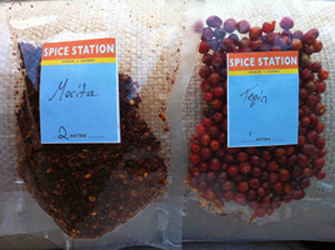 One of the golden rules in cooking is that the quality of your ingredients makes all the difference. This holds true for spices as well. When I was in Los Angeles last month, my brother turned me onto the Spice Station. They have virtually every spice under the sun and they'll even make a custom blend for you. If you want to learn about and experiment with new peppers – or any other kind of spice, they have a website & online store that you must check out.