I love Greece: I love the people, I love the beautiful islands, and most of all – I love the food. Noah and I were lucky enough to be able to visit Greece for a holiday and recently returned from a happy week in the Ionian where we ate heartily, reveling in the beautiful, fresh produce, prepared simply with lots of heart-healthy olive oil. We saw first-hand why the Greek diet is considered to be one of the healthiest in the world. In fact, a 2003 study conducted jointly by researchers at the University of Athens and Harvard University found that people who consumed a traditional Greek diet experienced a 33 percent lower risk of death from heart disease and a 24 percent lower risk of death from cancer.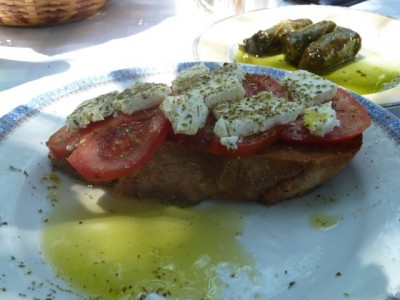 In our book Making Babies: A Proven 3-Month Program for Maximum Fertility

Dr. David and I suggested that people trying to conceive should eat a broad range of fruits and vegetables, healthy fats, some lean protein, and whole grains. This in essence is the Mediterranean diet and adopting some of its tenets is a great idea for everyone.
At the core of the Greek diet are dark leafy greens which are often not cultivated but foraged for in the forests and hedgerows. Rich in lutein which can prevent clogged arteries, dark green vegetables are also a great source of folic acid.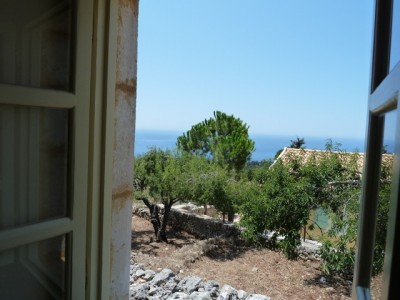 As many of you know I often suggest to patients that they increase their consumption of kale, beet greens, chard, collards, spinach, and dandelion greens. This is because in Chinese medicine they are a blood tonic and also move qi which means that they are great for people with minor hormone imbalances and PMS. Many of you ask me for recipes and I usually suggest simply steaming the greens and adding a touch of lemon juice. Yesterday, however, inspired by my Greek vacation and a wonderful pie I ate, I baked a pie with an olive oil crust that was packed with greens. I'd never made an olive oil crust before. My British roots mean that I usually use butter which gives a super tender pastry but ups the saturated fat content considerably. The pie crust I made with olive oil came out great though. It was a little bit tougher than a butter crust but made up for that by being crispy and having a pleasing nutty flavor.
Served with a tomato salad it was a great example of healthy Greek food. Rich in antioxidants and iron, low in saturated fat, high in monounsaturated fat, and full of fiber, it also tasted delicious so I wanted to share the recipe with you here.
Leafy Green Pie with an Olive Oil Crust
For the Olive Oil Pastry
1 1/4 cups all-purpose flour
1 cup whole wheat pastry flour
1/4 cup olive oil
1/2 tsp salt
1 tbsp red wine vinegar
3/4 cup cold water
For the Pie Filling
2 1/2 lbs of greens (I used a mixture of kale, chard, and spinach)
3 tbsp extra virgin olive oil
2 cups of onions, chopped
2 cloves of garlic, minced
2 tbsp of dill, chopped
2 tbsp of parsley, chopped
4 eggs, beaten
6 oz feta, crumbled
Salt and pepper to taste
1 tsp dried oregano
Recipe: Crust
First, make your pie crust.
In a stand mixer or food processor mix together the flours and salt.
With the machine running dribble in the olive oil, vinegar, and water being careful not to over mix the dough which can make it tough
Turn the dough out onto a floured board and knead briefly only as much as it needs to come together
Divide the dough into two discs, dust with flour and cover and put in the fridge for at least an hour.
In the meantime pre-heat your oven to 375 degrees
Recipe: Filling
Take the stems of the greens and blanch them for 2 minutes in a large pot of boiling, salted water
Remove them from the water and immediately plunge them into a bowl of cold water so they retain their vivid color
When they are cool squeeze out the excess water and then chop them. Combine with the chopped dill and parsley and set aside
Heat the olive oil in a large frying pan and saute the onions over low heat until they are soft and transparent.
Add the garlic and continue to saute for a couple of minutes
Add in the greens and make sure they get completely coated with the olive oil and then take the pan off the heat
Beat the eggs in a bowl large enough to take all the greens and crumble the feta cheese into this mixture
Pour the greens into the egg and cheese mixture, add salt, pepper, and the oregano
Roll out the pie dough and line a greased 10′ pie dish
Add the greens mixture
Roll out the rest of the pie dough and add the top to the pie.
Brush the top of the pie with olive oil and make a small slash in the center for steam to escape
Bake the pie for 50 – 60 minutes and serve with a tomato salad