Kale is definitely one of our favorite vegetables. In fact, we'd go so far as to say it is a culinary and nutritional workhorse in our garden, and we use it for everything from juicing to making chips for snacks. Best of all, we are able to get it in the ground and growing early. Kale is a "cut and come again" vegetable so we just pick what we need and it keeps growing. It is also very hardy so it keeps going until well past the first frost when nothing much else is still producing. Kale actually thrives as the temperature drops and the cold seems to make the flavor richer.
Kale is a cruciferous vegetable that is related to broccoli, cauliflower, and brussel sprouts to name a few. It is a powerhouse of nutrients that include:
Antioxidants kale is a great source of alpha-linoleic acid (ALA), which is an omega-3 fatty acid.
Vitamin A (eyes & skin), Vitamin C (immunity), Vitamin K (bone & blood health).
Minerals including Iron, Cacium & Maganese.
It is also a great source of dietary fiber, acting like a pipe cleaner for you digestive track.
We like to keep a few different kinds of kale growing. Each has its own distinctive flavors and we like to play with them. With the right preparation, they're all delicious.
Curly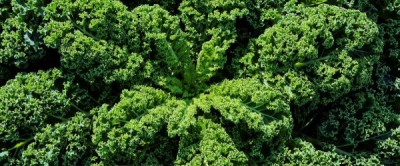 With broad leaves and kinked, curly edges, it is probably the most common and readily found in supermarket. It can be bitter, but it is firm and robust for cooking. Its pungent and peppery flavor can bring a great addition to many dishes. This is our favorite for juicing and for making kale chips
Lacinato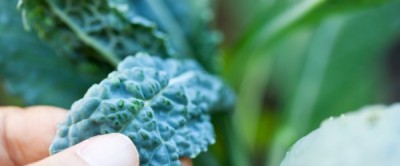 Also known as Dinosaur Kale, it has deep blue leaves, that grow long and have a bubbly effect. This variety is earthy, sweeter and not as intense as curly kale. It is great to sauté in a little olive oil with a little garlic and squeeze of lemon.
Red Russian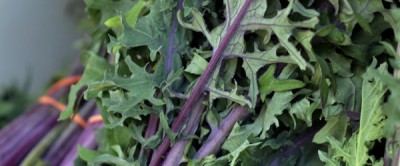 The hardiest kale into the winter months, this one has particularly thick, fibrous stems that have to be cut out before cooking. It's flavor is mild and it is a pretty leafed variety. This is our go-to kale for salads.
Most supermarkets have a variety of kales. If there is a farmers market near you though, get it there. Not only will you get the benefit of eating locally grown food, but you can ask the farmer about the different kinds they have.