Too busy to go to the supermarket? Cupboards almost bare? I'm always looking out for speedy snacks that I can whip together from what's available in my kitchen. Sometimes they turn out well and sometimes they don't but today I made a
chickpea spread
that I liked a lot. Less like hummus and more like a vegan version of tuna salad, here is my version of a chickpea sandwich filling which I served open faced on toasted Ezekiel bread.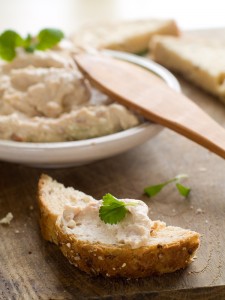 1 can of Chickpeas, drained and rinsed
2 tbsp Vegannaise
2 tsp Dijon mustard
2 tsp Umeboshi vinegar
1 tbsp chopped onion
1 stick of celery chopped
A pinch of smoked paprika
Salt and pepper to taste
Put all the above ingredients in a blender and pulse about 10 times until chopped but still chunky. Serve on toasted Ezekiel bread or gluten-free crackers for a great healthy snack.