Hugh Fearnley-Whittingstall is a much-loved British TV chef and cookbook author who writes about gardening, farming, and cooking. Whittingstall's wonderful book The River Cottage Cookbook covers everything from planting a vegetable garden to butchering a pig. It earned him the nickname Hugh Fearlessly-Eatsitall in the British press and I consider it a bible.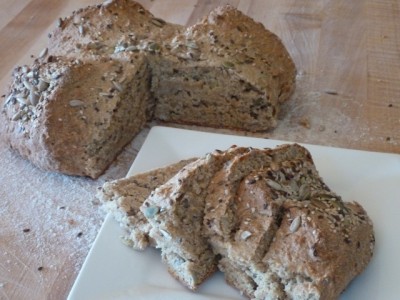 This soda bread recipe is based on a recipe in River Cottage Every Day. You can also find the recipe in an article in the Guardian here. As you can see I've taken some liberties with Hugh's original recipe based on what I had in my kitchen this morning. However, that's the beauty of soda bread – it comes together in a jiffy with the minimum of preparation and can be customized to accommodate the ingredients on hand. This loaf took about 10 minutes of measuring, mixing, and kneading and then spent a further 35 minutes in the oven filling the kitchen with a nice homely baking smell and making my mouth water.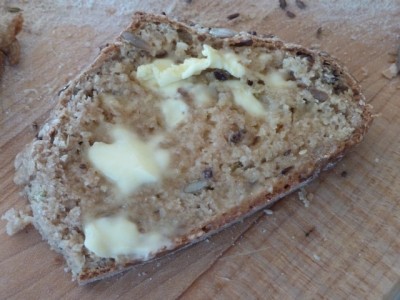 This is very healthy bread although I have to admit I ate mine slathered with butter! The seeds and spelt flour lend it a nutty richness and bump up the nutritional value.
Ingredients
3 tbsps of sunflower seeds
3 tbsp pumpkin seeds
2 tbsps of sesame seeds
2 tbsp of flaxseeds
1 tbsp of poppy seeds
1 tbsp of caraway seeds
1 tsp fennel seeds
1 3/4 cup spelt flour
2 cups unbleached all-purpose flour (OR C4C if you're limiting gluten)
2 teaspoons baking soda
1 teaspoon of sea salt
1/2 cup yogurt
1 1/4 cups fat-free milk (+ a small amount of extra milk for glazing)
Instructions
Preheat your oven to 400 F
In a small bowl mix together all the seeds
Sift both the flours into a large mixing bowl and add the salt and baking soda mixing everything together thoroughly
Add all but 2 tbsp of the seeds to the flour and mix
Combine the milk and yogurt in a jug and mix together well
Make a well in the center of the dry ingredients and pour the milk and yogurt in slowly mixing with a fork as you pour
Continue to mix until the dough comes together (adding more milk if it seems dry)
Tip the dough onto a floured board and knead for about a minute until the dough feels smooth (it's important not to overwork this dough)
Form into a ball and place on a floured baking sheet.
Using a serrated knife make a deep cross in the dough. This should be about 2/3 of the way through the loaf.
Glaze the loaf with a small amount of milk then sprinkle seeds all over the top making sure plenty get into the cross
Put the loaf in the preheated oven and bake for between 30 and 40 minutes (mine took 35 minutes)
Your loaf is ready when the top is golden brown and it sounds hollow when you pick it up and tap it.
Enjoy!