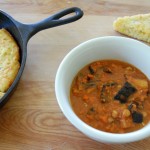 So tonight when faced with a glut of tomatoes from the garden I turned to Simply Recipes for some ideas. I found a recipe for Roasted Eggplant and Tomato Soup that was so great I wanted to point it out to you. Its healthy, low calorie and packed with flavor because all the vegetables are roasted.
The tomatoes roasted in olive oil are full of lycopene which is a carotenoid that protects against cervical and prostate cancer. The carrots are full of beta-carotene, which is important for maintaining hormone balance. There are studies that show that eggplant can help prevent high cholesterol. The roasted garlic is in the allium family all of which are anti-bacterial and anti-inflammatory. The chickpeas are high in protein as well as being a good source of folic acid and fiber. I always tell my patients to eat lots of different colorful fruits and veggies and this soup is a rainbow in a bowl.
I served it with Jalepeno Corn Bread. The cornbread recipe came from this months edition of Cooking Light which I borrowed from The Yinova Center waiting room. I am aware that some of you really like leafing through the Cooking Lights when you visit us, so rest assured I'll put it back in the waiting room next week!