Tender white beans, tart dried cherries, and whole grains offer a contrast of textures and flavors in this recipe. Cherries warm the body and strengthen qi, while rye berries reduce edema and excess fluids. Serves 4
For the salad
1 cup rye berries, rinsed and drained
3 cups water
1/2 teaspoon kosher salt
1/4 cup dried cherries
1/2 cup water
1 teaspoon extra-virgin olive oil
1/4 cup minced shallots
1/4 cup diced celery
1 cup (or about 1/2 of a 15-ounce can) cooked cannellini beans, drained
2 tablespoons chopped fresh green onions
1 tablespoon chopped fresh Italian parsley
For the dressing
1/2 tablespoon water
1/2 teaspoon grated lemon zest
1 tablespoon lemon juice
1/2 teaspoon kosher salt
1/8 teaspoon freshly ground black pepper
2 tablespoons extra-virgin olive oil
Prepare the salad:
In a medium pot, soak rye berries in room temperature water overnight.
Add the salt to the rye berries and soaking water and bring to a boil over high heat. Reduce heat to low, cover, and simmer for 1 1/2 hours, or until berries are cooked through. Some berries may split open during cooking.
In a small pot, bring water to a boil over high heat. Remove from heat and soak the dried cherries in the water for 3 minutes, or until soft. Drain and discard the soaking liquid, then roughly chop the cherries and reserve.
In a large skillet, heat oil over medium heat. Add shallots and cook for 1 minute. Add celery and cook for 2 minutes, then add cannellini beans and cook for 3 minutes. Remove mixture from heat and stir in the cooked rye berries, reserved cherries, green onions, and parsley.
Make the dressing:
In a small bowl, combine water, lemon zest, lemon juice, salt, and black pepper. Add oil in a steady stream and whisk together until emulsified. Add dressing to the rye berry mixture and toss until well incorporated.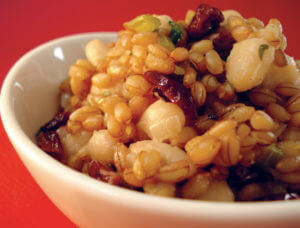 This recipe comes from my recently released book, What's Your Season? Healing Principles and Recipes for Your Body Type.
What's Your Season? presents a new approach to living well, bringing together the best of Eastern and Western medicine to optimize health. As the natural world constantly changes around us, most of us exhibit the same health symptoms and characteristics all year long, turning to exercise routines and diet plans that we expect to work for everyone, every time. By relating characteristics of your health, personality, and physical condition to five different seasonal body types, this system explores the ways in which what you eat, drink, think, and do impact your health—and how you can use nature's example to develop a lifestyle plan that works for you. Whether you embody the warmth of summer or the cold of winter, with the help of What's Your Season? you'll learn how to take a more mindful approach to the way you eat and live and, in so doing, discover the good health that you seek. For more information, please visit www.whatsyourseason.com