Some of you may remember that back in April we blogged about planting vegetable seeds. I posted pictures of those seedlings here on the blog and on Facebook and have been surprised by how many people have asked me how they are doing.
They looked like this in early spring…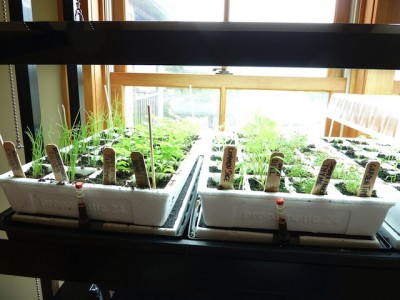 And now it's June and here are the same plants in our garden…..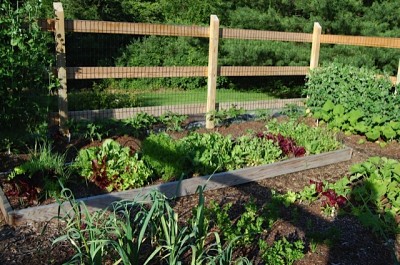 Most of these vegetables were grown from seed and cost very little. Some started out under a light unit in our living room and some seeds were sown directly into the ground. Now that summer is just beginning we're able to harvest the early vegetables and are excited about the crops that still have some growing to do. Nothing is more satisfying than feeding family and friends with nutritious, organic homegrown veggies, and growing them from seed is easy and economical.
The kinds of vegetables that are ready in our area in June are:-
Asparagus, broad beans, early broccoli, spring cabbage, mustard greens, lettuce, green onions, peas, early potatoes, radish, spinach, and chard.
Here are the main June jobs for vegetable gardeners in New York State.
If you haven't done so already, plant your warm-weather plants. Ours went in at the end of May but it's not too late to plant tomatoes, corn, peppers, eggplant, squash, melons, cucumbers, and pumpkins.
Very gently shake your tomato plants to encourage them to pollinate. Water them regularly (we have a sprinkler on a timer) because otherwise, the fruit grows into strange shapes. Once you see some green tomatoes growing then it's time to fertilize the plants once a week.
If you really want to extend your growing season you can plant seeds for broccoli, cauliflower, kale, and brussels sprouts now. This will give you a second crop of these nutritious plants that will be ready in the autumn and last into the early winter.
Thin out any lettuce plants if you planted the seeds directly into the soil. If you want to have fresh lettuce throughout the summer it's time to plant a second crop. You can sow the seeds directly into the ground but pick a variety that can tolerate heat well and as the shoots appear cover with a polythene tunnel to give them some shade.
Eggplants and peppers start to grow now. They need plenty of heat and so often get off to a slow start. Don't feed or fertilize them until they flower.
You should be able to pick an early crop of peas with plenty to come as the summer progresses.
Harvest early beets, spring onions, radishes, and salad leaves, and don't forget to sow some more for a later crop.
Mound soil up over your potato plants to protect them from the heat.
Harvest asparagus until the end of the month, then allow the shoots to grow to feed the roots for next year's crop.
Enjoy!