I love the rhythms of the country and the way the passage of time is marked by the fruits and vegetables we grow and the foods we eat. I look forward to each crop from the early summer peas and beans to the autumn pumpkins and squashes. However, nothing generates more excitement in our house than the apple harvest, and recently Noah and I took advantage of a sunny fall day to pick enough apples and pears to last us through the winter.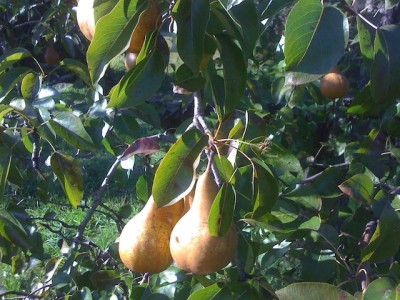 In Chinese medicine, both apples and pears are considered to be cooling and moistening and are used medicinally to treat inflammation and dryness. Modern scientific research seems to agree with the old adage that "an apple a day keeps the doctor away" because various studies have shown that apples can protect women from osteoporosis and breast cancer whilst also preventing asthma and lowering cholesterol. Pears meanwhile can treat a sore throat, reduce inflammation, boost the immune system, and lower blood pressure.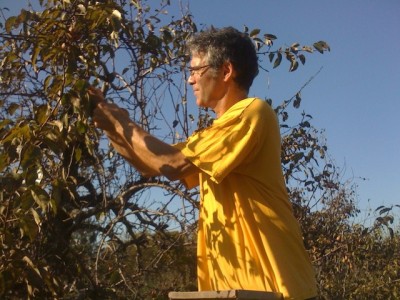 We spent a happy afternoon picking the fruit and arrived home tired and in the mood for an apple crumble and some home-made pear juice. Suitably fortified, we set about preserving the rest of the fruit for later use. We canned the pears in spiced red wine and the apples in syrup to be used as pie filling and talked about how happy we will be to open these jars during a freezing New York winter and briefly recapture the autumn sunshine.
Canning is daunting the first time you do it, but it's actually very simple and it makes economic sense to use fruits when they are plentiful and cheap and preserve them to eat the rest of the year. Our grandparents did this because they had to and I'm happy to carry on the tradition and even pass it on to the next generation. My kid, Emma, has inherited a passion for preserving and is an enthusiastic jam maker. You can read her favorite jam recipe here.
Apple or Pear Crumble
Ingredients:
Topping
1 1/2 cups old-fashioned rolled oats
1/2 cup chopped nuts eg. walnuts, hazelnuts, almonds (or a mixture of all three)
1/4 cup packed brown sugar (or 1/3 cup of date sugar, if you are avoiding processed sugars)
1/3 cup whole-wheat flour (or gluten-free bake mix, if you are avoiding gluten)
Filling
5 tablespoons canola oil
3 1/2 pounds ripe pears or apples, peeled and cut into 1/2-inch slices
1/2 tsp ground cardamom
1/2 cup maple syrup
1/2 cup raisins or dried cranberries
2 tablespoons cornflour
2 tablespoons lemon juice.
Directions:
Preheat your oven to 350°F.
Prepare the topping by combining the oats, nuts, brown sugar, and flour (or gluten-free bake mix) in a medium bowl.
Stir in the oil and mix until all the topping ingredients are moist.
Prepare the filling by combining the pears, maple syrup, cardamom, raisins (or dried cranberries), cornflour and lemon juice into a large pie dish. Mix well.
Sprinkle the topping over the pears.
Bake the crumble for 45 minutes. The pears should be soft, the juices should be bubbling and the crumble topping should be golden and crisp.
Take the crumble out of the oven. Ideally, it should stand for about 10 minutes to allow the flavors to develop but this never happens in our household where everyone digs in the minute the crumble is ready.

The pie I made! – Jill