The COVID Vaccine, as it's colloquially called, has sparked discussions around the world. Among the many questions, some of the more common ones are, " is the vaccine safe?" and "I've heard about side effects, what do they mean and how can I protect myself?"
Safety has always been incredibly important to us; the pandemic has only heightened our already stringent policies on health, cleanliness, and safety. To that end, most of our clinical team are fully vaccinated while others are halfway there. Many of our patients have been asking us about the vaccine and how to best prepare for it and so we wanted to share our experiences.
In most cases, our bodies develop their own defenses to protect us against viruses. That is, after all, how immunity works! Issues arise when the process of identifying a bug and creating protective immunity takes too long. Specifically, in the case of COVID-19, the replication of the virus and the potentially catastrophic consequences happens too fast for our bodies to handle.
So what about the new COVID-19 vaccines? Can Chinese medicine help you prepare for them and battle any side effects? The short answer: yes to both!
"Drawing on my Chinese medical background, I can offer my patients a practical and sensible path through the vaccination process." Says Yinova's chief clinic director, Dr. Noah Rubinstein. "In my practice, the goal is to provide adjunctive care that minimizes any short and long-term reactions to a vaccine. I've found that taking a few proactive steps can help reduce the likelihood of adverse reactions and side effects. From a Chinese medical point of view, one of the primary concerns about immunization isn't the vaccination itself, but more so, how patients are managed afterwards."
Interestingly, vaccinations were actually first used in East Asian medicine, thousands of years ago. We have come a long way over the centuries and according to Dr. Rubinstein, "in the case of the current vaccines for COVID-19, we have a new generation of medicines that are safe and effective."
What exactly are these vaccines and how do they differ from other vaccines?
When not in clinic, Dr. Rubinstein is a volunteer vaccine administrator in upstate New York and offered this explanation, "There are currently two types of jabs for this coronavirus: mRNA and viral vector. Moderna and Pfizer are mRNA, a new class of vaccines that differ in that they are not made up of viral material at all, but the instructions for how to make a small part of it called the spike protein. These spikes (that make up the "corona" we see) are a really important part of how the virus gets into cells. Once your body makes spike proteins and releases them into your blood, it triggers a response that teaches your body to recognize and destroy the virus in the future, before it can replicate. The mRNA vaccine is not actual viral material, it doesn't enter the nucleus of the cell and there is no effect on DNA. Even the mRNA "instructions" that make it up are destroyed.
Recently, the viral-vector Johnson & Johnson vaccine received approval for use in the U.S. The difference is that instead of a strand of mRNA, the Johnson & Johnson uses a small segment of virus DNA for the instructions on making the spike protein. The other difference is the delivery method. The Johnson & Johnson vaccine uses a deactivated adenovirus (think common cold) that can enter the cell, but not replicate, so you don't get sick. The idea of using an adenovirus as a trojan horse for a coronavirus vaccine may sound counterintuitive, but this is a technique that has been utilized before for viruses like Ebola and Zika.
Once the cell machinery is prompted to make the spike proteins, the immune response is the same among the vaccines. Some people do feel symptoms after these vaccinations, but they are short-lived and reflect your body developing immunity, not you getting sick. With the emergence of new strains of the virus there are additional questions about the need to re-vaccinate in the future. That is not something that anyone is totally clear on now. When it comes to protection in the current environment, for ourselves as well as our communities, these vaccines are easy, safe and effective."
Is it safe to get vaccinated against COVID-19 prior to conceiving or while pregnant?
Many of our patients are either trying to conceive or are pregnant and so a big question we've received is, "is it safe or should I wait?" Based on the research we've seen, we feel it is safe for everyone to get this vaccine. To get a second opinion, we reached out to reproductive endocrinologist, Dr. Lucky Sekhon, M.D. of RMA of New York, to see what her thoughts were: "One of the most common questions I have gotten since the beginning of 2021 is whether it is safe to get vaccinated against COVID-19 while trying to conceive or while pregnant.
The question arises since the initial vaccine trials excluded this specific group of women, and therefore, there was no direct evidence to prove safety in this population. Since the vaccines became available, 30K pregnant women and counting have been vaccinated with no red flags. A lesser known fact is that there were animal trials done prior to the human trials, showing that vaccination did not interfere with the ability for rats to conceive and have healthy offspring. Based on how the vaccine works (delivery of the genetic code to direct your body on how to make the viral spike protein, rather than administering the virus itself) and the lack of any other significant components, there are no safety concerns with vaccination whether trying to conceive or already pregnant. As a fertility doctor, I can understand patients' hesitancy to accept a new vaccine in the absence of studies that involved pregnant humans. But, given the lack of a mechanism by which the vaccine could be harmful and the major benefits of preventing severe infection and death from COVID (for which pregnancy is a major risk factor) and minimizing the risks of COVID in pregnancy such as preterm delivery, many pregnant healthcare workers themselves have made the decision to get vaccinated.
There are specific considerations, when receiving the vaccine while undergoing fertility treatments or while already pregnant. If you are one of the ~10-15% of vaccinated individuals who experience fever, treat it. There is some data which links high fever in the first trimester to increased risk of birth defects. It is important to avoid having any dose administered within a 3 day window of any procedure- this is to avoid any confusion should you develop a fever, where it is then not possible to distinguish whether it is a vaccine side effect or a post-procedure infection. You do not need to wait an entire cycle or specific period of time to resume fertility treatment, or delay treatments. If you are pregnant and getting vaccinated, be sure to time it so you are at least 14 days out from receiving other commonly used vaccines in pregnancy (TDaP, flu vaccine, etc).
Whether to get vaccinated is an individual decision – you have to weigh your level of comfort with the information at hand and your personal level of risk (do you have regular exposures to other people or can you isolate?). The bottom line is, the vaccines work and save lives and are the only foreseeable way out of this pandemic. This high degree of confidence in the vaccine's efficacy was evidenced by the CDC revising their guidelines to loosen restrictions for vaccinated individuals. Of course, you should speak with your doctor if you have any further questions, to best support your decision."
Dr. Sekhon has written about reproductive health in relation to COVID-19 and the vaccinations extensively on her blog. Here is her article on the COVID-19 vaccinations and pregnancy and here is her article debunking the myth that the vaccine can cause infertility.
In terms of preparing for and getting the vaccine, there are many ways that Chinese medicine can support you through the process. Here are some of the ways our practitioners have used the wisdom of Chinese Medicine to prepare their bodies for the vaccine:
What steps did you take prepare for the vaccine?
Dr. Noah Rubinstein, DACM, LAc: I received an acupuncture treatment both prior to and after getting my vaccine. (I also made sure to really hydrate the day before!). Acupuncture can be helpful in a number of ways when getting the vaccine. Most importantly, it helps awaken your body's innate intelligence to take on the quite literal 'message" that the vaccine provides. As part of your vaccine strategy this means acupuncture can help reduce side effects, encourage circulation through the lymph and circulatory systems that help clear toxins out of your body and simply reduce the stress response that we have all had to the virus and even to getting the vaccine for it.
Yinova Practitioner, Donna Hernández, LAc, MS: I got acupuncture the week prior and took a daily herbal mushroom (reishi in capsule form) to help strengthen and support my immune system's adaptability*. I also took Vitamin C, Vitamin D/K complex, and a multivitamin.
Yinova Founder, Dr. Jill Blakeway, DACM, LAc: I actually didn't prepare for my first dose. I was offered my shot at the last minute and was happy to get it.
Yinova Practitioner, Dr. Daryl Thuroff, DACM, LAc, LMT: I gave myself an acupuncture treatment and used a few points that are great for tonifying and clearing. Some of these points included San Jiao 5, Large Intestine 4, Lung 7, and Stomach 36. I also made sure to take Vitamin C and D and I avoided processed sugars as they add to inflammation.
Yinova Clinic Director, Dr. Patricia Botet, DACM, LAc: I really thought about how to prepare myself from a Chinese medicine perspective. Our bodies are created to process anything we're exposed to, whether that is food, life experiences or viruses and vaccines. When we are in harmony with nature, our body is able to more effectively engage in this proper processing. Since it was winter, I made sure to go to bed early, get lots of rest, did a long morning meditation, light workout, and warm breakfast. (I avoided lots of coffee, intense exercise, lots of supplements, and running around all day, all of which I know cause my system to be super stressed and less able to function optimally.)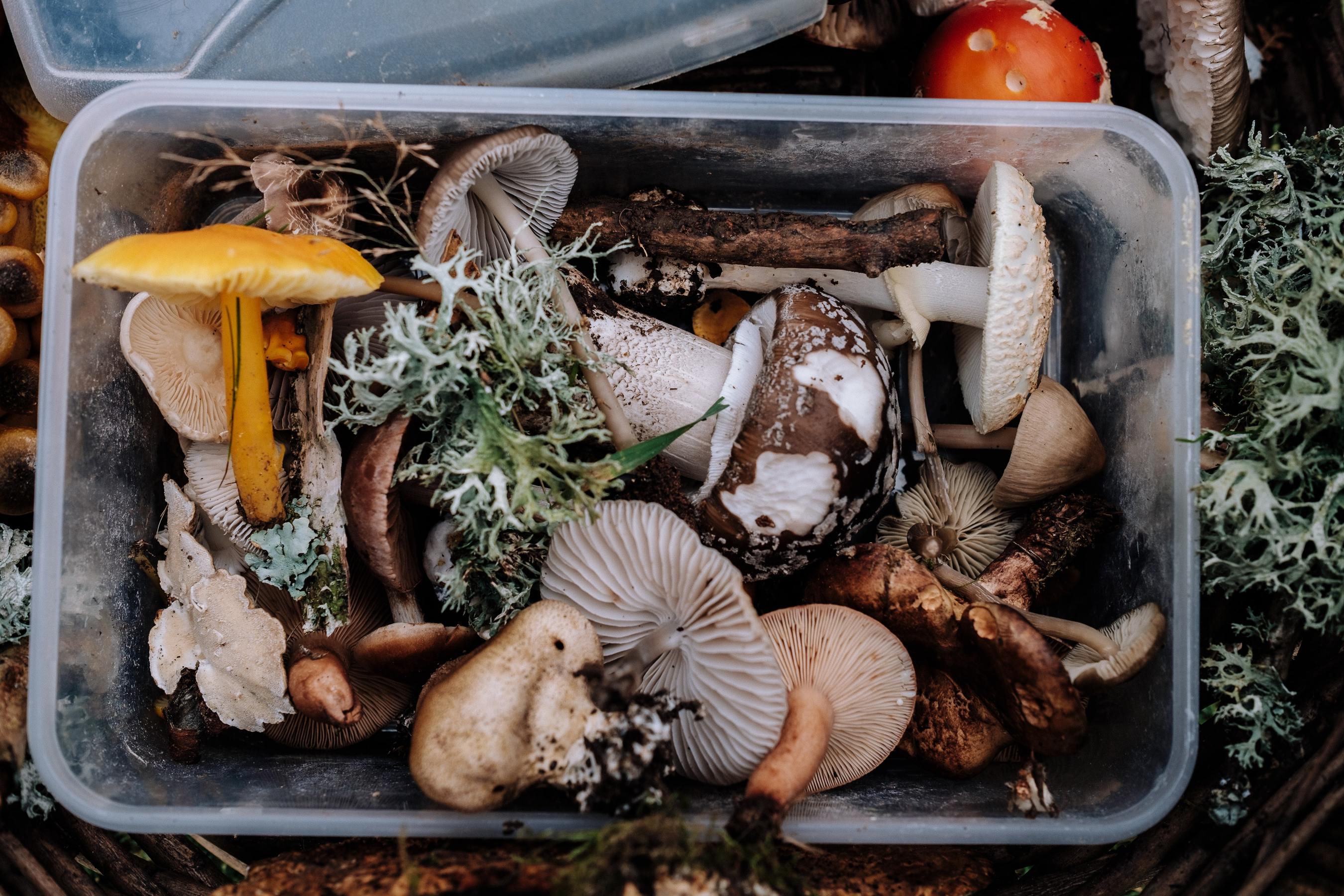 *We've spoken about the power of mushrooms and how to support your immune system's flexibility on our blog before:
How did you feel after your vaccine? What did you do to help battle those side effects?
Donna: I felt a bit fatigued for 24 hours and had a slight headache. The worst part was the arm pain to which I applied Battle Balm and a CBD ointment afterward. I continued my supplements and followed up with an acupuncture treatment.
Jill: At first I had some soreness on the arm where I received the shot. After a few days I had swollen lymph nodes, fatigue, and night sweats. I wasn't too worried because it seemed as if my immune system was adjusting to new information. To help with the side effects, I took Xiao Chai Hu Tang which is a Chinese herbal formula that helps the immune system to modulate.
Daryl: I felt fatigued and had a headache. After about a week, I noticed I was feeling malaise. I didn't want to do too much as I wanted to let my body do what it needed to do but I did take a custom herbal formula that I knew would help my body work through the residual effects.
Patricia: After I got my vaccine, I went home and made sure I kept my schedule light that day. I read, stayed warm, ate warm foods and did an early evening meditation then went to bed early. Both doses were on Sundays so that wasn't hard to do. I I felt mild upper arm soreness after the first test and maybe a little more soreness after the second one, but pain was gone 2 days later.
---
President Biden recently announced that all adults will be eligible for the vaccine by May 1st, which is exciting news as we navigate our way back into normalcy. By crafting a treatment plan unique to your needs, our team of experienced Chinese medicine practitioners are here to help you prepare and restore by using acupuncture, Chinese herbs, and nutritional advice.