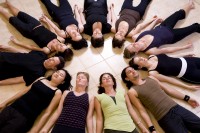 In our book Making Babies: A Proven 3-Month Program for Maximum Fertility

Dr. David and I recommend abdominal self massage as a way of helping to enhance fertility by increasing blood flow to the uterus. In the book there are detailed diagrams of different self-massage techniques for every phase of your cycle. This massage is partly based on the Maya Abdominal Massage™ developed by Dr. Rosita Arvigo and partly based on the extensive clinical experience of our own Nicole Kruck. We encourage anyone trying to conceive to book a session with Nicole where she will teach you the self massage techniques that are in the book.

I asked Nicole to answer some frequently asked questions about using abdominal massage to enhance fertility and her answers are below.
What can I expect in my initial treatment with Nicole?
Nicole Says:
The initial session consists of an intake, massage and "Self-Care" massage instruction. Many times guided meditation and breathing exercises are also included. I individually tailor the treatment to each client's specific needs and comfort level.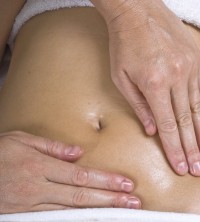 We review the intake form together and start to put the pieces of the puzzle in place create a clear picture. I use the information you give me on the intake form to map out how we will resolve current issues as well how we can achieve long term health goal.
What is the massage treatment like and what does it do?
Nicole says:
During the massage much of the focus will be on the abdominal area. This gentle external massage is intended to remove blocks in circulation, lymphatic drainage, nerve connections & scar tissue or adhesions. It also strengthens uterine ligaments to reposition a wandering womb.
Attention is also given to postural alignment which may also create many reproductive problems.
Is that all there is ?
Nicole says: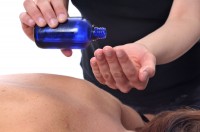 No. The point of our sessions is to give you knowledge that you can use yourself at home. You will learn how to do your own simple abdominal massage treatment on a daily basis. This supports you to, literally, take your health "into your own hands" in between sessions.
How long before I can expect change in my conditions?
Nicole says:
With regular sessions and dedication of your self care practice at home. You should begin to see a change within your first cycle.
What do I need to know to schedule my appointment?
Nicole says:
There are 2 options for an initial treatment at the Yinova Center:
You can book a single two hour initial consult or some people choose to see me throughout one cycle and book four, one hour treatments over the course of a month.
After that you don't necessarily need to come in and see me every week for treatment, especially if you are doing your own self-massage regularly, but it is important to come in periodically for follow up treatments so that we can assess your progress, make any necessary changes and make sure that you feel confident in with your own Self-Care massage at home.