Kathryn, one of our lovely Yinova patients was reading our book Making Babies: A Proven 3-Month Program for Maximum Fertility

when she had a thought. She Facebooked me to suggest that we start collecting fertility-friendly recipes and publishing them here on the blog. I loved the idea and thought her first two recipe suggestions were great. I'm growing cucumbers in my garden so her creamy cucumber soup sounds wonderful and her second recipe for a spicy lentil soup is a fabulous hot weather idea.
These recipes are inspired by our book and nourishing for people who are trying to conceive but they're also just lovely summer fare. Enjoy!
Thanks, Kathryn, for your contribution. I hope you'll write more recipes and share them with the Yinova community and for anyone else out there who wants to join in I say, feel free….email me, comment or Facebook me and I'll put your recipes on the Yinova blog.
K's Creamy Cucumber Soup
2 medium onions, roughly chopped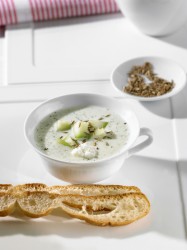 2 T. butter
4 cucumbers, peeled, seeded & chopped
4 oz. fresh goat cheese
sea salt
white pepper
Saute onions with butter and 1 tsp salt until soft ("sweated") but not browned. Add cucumbers and cook until tender. Remove from heat and puree in a blender with the chevre (a VitaMix is ideal for this, but a food processor or a blender works fine). Add salt and white pepper to taste. Chill in the fridge. Serve cold or room temperature.
Kathryn emailed me to add that she often chops mint and sprinkles it on this soup.
K's Super-Delicious Red Lentil Soup
1 T. olive oil
1 inch fresh ginger, peeled & sliced
2 cloves garlic, minced
2 stalks lemongrass, bruised and cut into 3 inch lengths
1 medium red onion, finely chopped
1/2 or 1 jalapeno pepper, seeded and finely chopped (optional)
1 can light coconut milk
1 c. red split lentils
4 c. water
1 t. sea salt, or more to taste
1 large handful cilantro, finely chopped (I love cilantro, so I tend to go heavy handed with it, but some people hate it)
4 fresh scallions, finely chopped
2 c. fresh baby spinach
½ lime, juiced (about 1 or 2 tablespoons)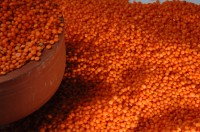 Saute ginger, garlic, lemongrass, onion, and optional jalapeno in olive oil, until fragrant (leave the ginger & lemongrass large enough so that you can remove the pieces from the soup later). Add water, coconut milk, red lentils and salt. Cook until lentils are tender, about 40 minutes. Remove lemongrass & ginger pieces. Add cilantro, scallions, spinach and cook until spinach is wilted (but don't overcook!). Add salt and lime juice to taste. Yummy!