I love our food co-op here in Chatham, NY and am especially fond of it on a Friday night when local farmers set up stalls outside to display their wares and Magdalena makes and sells delicious Mexican food. Last Friday Noah and I sat in the sun sipping homemade lemonade and eating Magdalene's wonderful empanadas with rice and beans. Heaven!
We wandered home our basket groaning with fresh-picked produce, including a bunch of beautiful beets which inspired me to make a summer borscht. My usual version includes a beef shank and is hearty and warming during a New York state winter but for summer I wanted something vegetarian and lighter. Below is my recipe for summer borscht which we ate for lunch today with generous scoops of locally-made organic yogurt from Hawthorn Valley Farm.
Beets in Chinese medicine are a blood tonic and benefit the heart and liver. They are full of B vitamins and antioxidants and the pigment that makes them red has recently been shown to fight cancerous tumors. It's this pigment that also raises antioxidant levels in the liver and promotes detoxification in the intestines, blood and liver.
Summer Borscht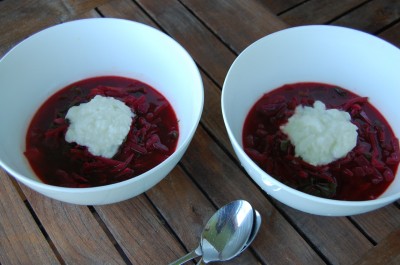 1 pound beets, peeled and cut into matchsticks
1 large red onion, sliced
2 large carrots, peeled and cut into matchsticks
1 tsp caraway seeds
3/4 pound red cabbage, shredded
2 tablespoons olive oil
5 cups vegetable stock
1 tsp argave nectar
Juice of 1/2 a lemon or more if you like your borscht sour
1/4 cup green onion stalks or chives
Handful of chopped beet greens
Salt and pepper to taste
Parsley and dill, chopped
Yogurt
Swirl the oil in a large pan and saute the beets, carrots, onions and caraway seeds over a low heat for about 5 minutes until they have softened a little.
Add the vegetable stock and argave nectar, a bring to a boil.
Add in the cabbage and simmer for 25 minutes
Add in the beet greens, green onion stalks and lemon juice
Taste and adjust the seasoning by adding salt and pepper and some more lemon juice if necessary
Serve with chopped dill and parsley sprinkled on top and a generous blob of yogurt.
This is delicious either hot or chilled.
Serves 4