Feeling fatigued? Instead of drinking more coffee, try building more blood!
During the menstruation cycle, the amount of blood loss can lead people to become, what Chinese medicine would refer to as, "blood deficient." There are other causes of blood deficiency as well, like low amounts of iron or B12-containing foods in one's diet, among other things.
You may fall into this category if you bruise easily, often feel fatigued, stare at a screen for extended periods of time, don't get enough sleep (especially between 11:00 pm and 3:00 am), or if you are overworked (is there anyone not described by this list?!) you could probably use some help building blood. A simple and important way to do this is through your diet.
As someone eating on the go, I find it difficult to ensure I'm getting enough blood-building foods in my diet. This recipe is easy, extremely quick, and contains foods such as steak and spinach, which help to build blood. The avocados provide healthy fats, and the yogurt is a great, probiotic-containing alternative to sour cream or mayonnaise-based dressings. You can use gluten-free corn tortillas to make the whole meal gluten-free. Also, feel free to omit the yogurt or use coconut milk yogurt to make it dairy-free. To make it vegetarian just substitute black beans in place of the steak, or use fish if you eat fish. The whole meal requires less than 15 minutes of actual cooking time!
Blood-Building Steak Tacos and Spinach Salad
Ingredients
1 flank steak
1 tsp garlic powder
1 tsp chili powder
1 tsp cumin
½ tsp coriander
salt and pepper to taste
2 red onion (sliced)
2 tomatoes (diced)
2 avocados (sliced)
1 bunch cilantro
¼ c yogurt (I prefer the Greek style)
2 limes
2 tsp red wine vinegar
¼ head of cabbage (shredded)
1 bag fresh baby spinach
Corn tortillas
Recipe
Preheat the broiler. Put the steak on a broiler pan and season each side with the garlic powder, chili powder, cumin, coriander, salt, and pepper.
Cook the steak under the broiler, about 3-5mins per side, depending on the thickness of the steak.
While the steak is cooking, cut up all of the vegetables.
In a medium bowl mix together the cabbage, half the bunch of cilantro, and half of the onion. Whisk together 1 tsp red wine vinegar, 1 tsp lime juice, ½ tbsp olive oil, salt and pepper to taste and add to the cabbage mixture.
In a small bowl, mix together the yogurt, 1 tsp red wine vinegar, 1 tsp lime juice, cilantro, salt and pepper. Use half to dress the spinach salad and reserve the other half as a condiment for the tacos.
To prepare the spinach salad, mix together the spinach, onion, avocado, tomatoes and dress with the yogurt dressing.
Let the steak rest for 3-5mins, then slice as thinly as possible on the diagonal.
Prepare the tacos using your desired amount of steak, cabbage slaw, avocado. Serve with the spinach salad.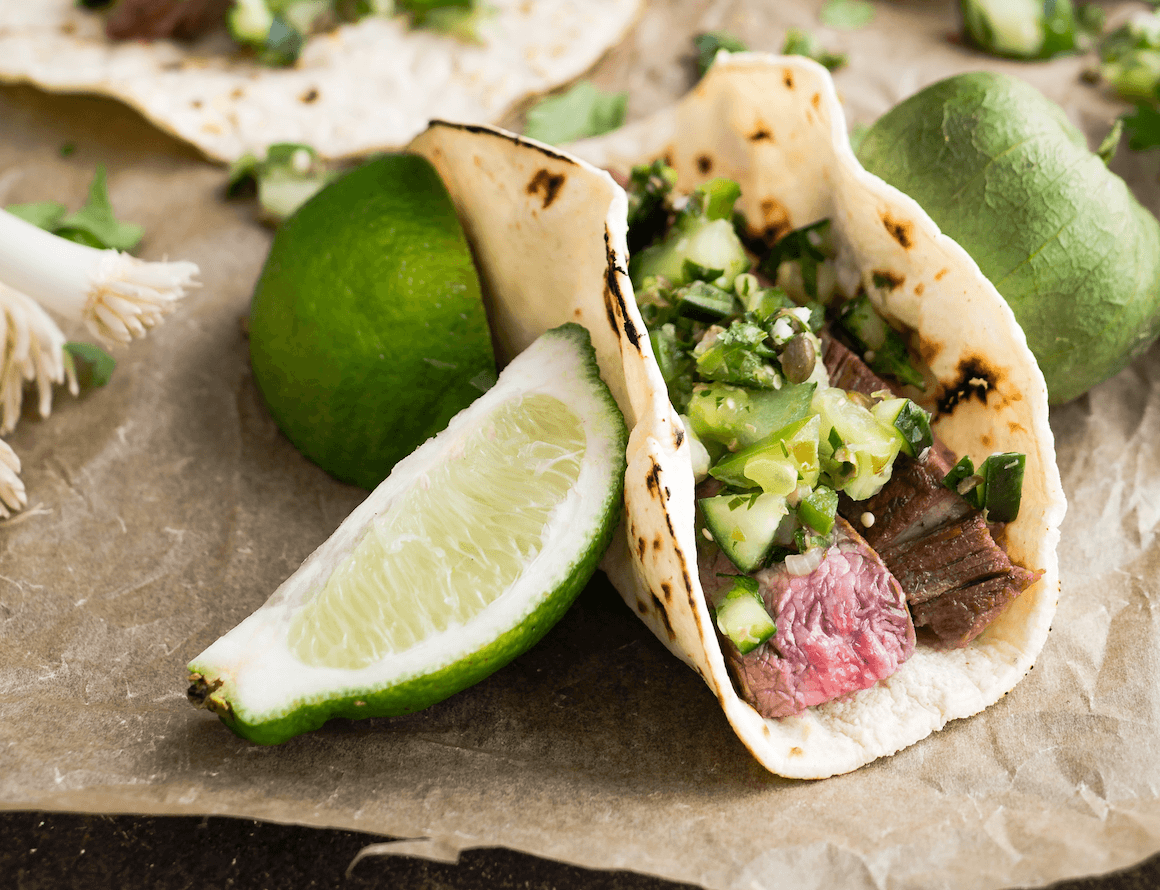 Quinoa Salad
Ingredients
2 cups water
1 cup quinoa
½ can chickpeas
1 jar artichoke hearts
Leftover tomatoes, spinach, and avocado from the tacos
Juice of 1 lemon
1 tbsp olive oil
Salt and pepper to taste
Recipe
Place quinoa and water in a saucepan, bring to a boil, cover, reduce to a simmer and cook until all of the water is absorbed (about 15 minutes).
Let cool, then mix with the tomatoes, spinach, chickpeas, artichokes, and avocado. Dress with lemon, olive oil, salt and pepper to taste.