This morning with no bread in the house and a chill in the air, I remembered my grandmother making skillet bread and decided to improvise a healthier version. It took 5 minutes to mix and 5 minutes to cook so is an easy and quick addition to any breakfast table. The whole grains and oats add nutritional substance and a nice nutty flavor.
The oat flour and oat bran are particularly healthy. Research shows that people who eat more oats are less likely to develop heart disease and that the phytochemicals in oats may also have cancer-fighting properties. Oats are also a good source of protein and many nutrients including vitamin E, zinc, selenium, copper, iron, manganese, and magnesium.
Easy Whole Grain and Oat Skillet Bread
Serves 4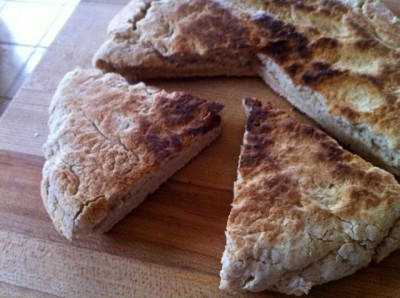 Ingredients
1 cup all-purpose flour
1/3 cup whole grain flour
1/3 cup oat flour
1 tbsp baking powder
1 tbsp oat bran
Pinch of salt
1 tbsp butter
2/3 cup nonfat milk
Recipe
In a mixing bowl sift the flours and baking powder and add the salt and oat bran.
Melt the butter and add it to the milk
Stir the wet ingredients into the dry ingredients slowly and mix until the dough comes together
Tip the dough onto a floured chopping board and knead lightly.
Roll the dough out into a round shape about 1/8″ thick
Lightly oil a 10″ cast iron skillet and put the dough in it.
Put the lid on the skillet and cook on a medium heat on the stovetop until the underside is brown and then flip the bread and brown the other side.
Serve immediately.