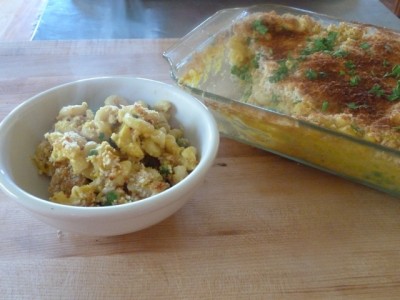 Readers of my book Making Babies: A Proven 3-Month Program for Maximum Fertility may have noticed that I suggest that some people cut down on their consumption of dairy products. Many of us could benefit from eating less dairy and in my practice I often suggest that patients who suffer from excessive mucus adjust their diet in this way.
However lots of people miss dairy and I sympathize. There's nothing like a steaming bowl of mac'n'cheese with a nice crispy brown crust. This recipe is for a vegan version of mac'n'cheese and it's the one my family likes the best. To be honest it doesn't taste exactly the same as the dairy version but, for me, it satisfies the craving and, because it's full of vegetables, it's very low in calories and packs a nutritional punch.
Vegan Macaroni and "Cheese"
Serves 8
8 oz. Elbow Pasta
1 cup Potatoes , Peeled, chopped
¼ cup Carrots, Peeled, chopped
⅓ cup Onion, chopped
⅓ cup Earth Balance
1 tbsp. Olive oil
¼ cup Raw cashews
1 tsp. salt
1 clove garlic
3 tbsp. Nutritional yeast
¼ tsp. Dijon mustard
¼ tsp. Mustard powder
¼ tsp. tumeric
¼ tsp. Smoked Paprika
1 tbsp. Tahini
1 tsp. Miso
1 cup Peas
1 tsp. lemon juice
1 cup Almond milk
1 cup Bread crumbs
Preheat your oven to 350F
Steam the carrots, potatoes and onions for 15 minutes
Boil the pasta for 7 minutes (you can save energy by boiling the pasta in the water under the steamer you are using for the vegetables)
Put the following in a food processor or blender – earth balance, cashews, salt, garlic, nutritional yeast, mustards, turmeric, smoked paprika, tahini, miso, pepper.
Add the steamed vegetables and almond milk and process until smooth.
Add lemon juice to taste and adjust seasoning. Regular mac'n'cheese is a salty dish so you may need to add more salt for a cheesy taste.
Put the peas and pasta in an oven proof dish. Add the sauce and mix thoroughly
Bake in the oven at 350F for 30 minutes until the top is crispy and golden
NUTRITION FACTS
Servings: 8
Amount Per Serving
Calories: 331
Total Fat: 18.21g
Cholesterol: 3mg
Sodium: 535mg
Total Carbs: 42.27g
Dietary Fiber: 5.07g
Sugars: 4.00g
Protein: 11.68g