Valentine's Day brings with it a lot of pressure. We're expected to have a perfect night out with champagne, flowers, and candlelight. Unfortunately, most of the time, the reality is that it is a crowded night to be out, with a prix fixe meal, you and your date are squeezed into a busy restaurant where roses and hearts are a part of the over-the-top decor.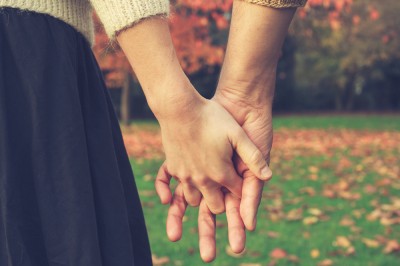 Another idea: Consider wooing your beloved with a beautifully prepared meal at home. If you aren't up to doing the entire meal, try outsourcing prepared things by putting your own final touches on the dishes you would like to do yourself. Most importantly, plan a simple yet sensual menu that won't leave you feeling the discomfort of overindulgence but increases your libido so you can roll right into bed after (or in the midst of) dinner!
In Traditional Chinese Medicine, boosting libido means strengthening and nourishing a kidney yin/yang balance by warming the core, supporting adrenals and promoting blood circulation through the entire body. One of the many ways to do this is by eating well-sourced whole foods that are warming to the system. Ingredients such as lamb, trout, chicken, prawns, onions, garlic, ginger, cinnamon, cloves, fennel, fenugreek, anise, walnuts, chestnuts, pine nuts, raspberries and peaches are just some examples of foods that boost yang and therefore boost libido.
Here is a simple yet succulent recipe for a lamb tagine that contains many libido enhancing ingredients; lamb, cinnamon, ginger, honey and pomegranate.
Lamb Tagine with Chestnuts, Saffron & Pomegranate Seeds
Inspired by and adapted from Tagine; Spicy Stews from Morocco by Ghillie Basan
2 tablespoons ghee
2 white onions, finely chopped
4 garlic cloves, minced
a 1 ½ -inch piece of fresh ginger, peeled and finely shredded
a pinch of saffron
2 cinnamon sticks
½ teaspoon of coriander
2 lbs of lean lamb, from should or leg, cut into bite sized pieces
6 oz peeled chestnuts
1 tablespoon buckwheat honey
sea salt & freshly ground pepper
1 pomegranate, seeded
a small bunch of cilantro leaves, roughly chopped
a small bunch of fresh mint, roughly chopped
1 orange, zested
Heat the ghee in a tagine or heavy-based casserole dish. Stir in the onions, garlic, and ginger and sauté until they begin to color. Add the saffron, cinnamon sticks and coriander, and toss in the lamb. Pour in enough water to almost cover the meat and bring to a boil. Reduce the heat, cover with a lid, and simmer gently for an hour or so.
Add the chestnuts and stir in the honey. Cover with the lid again and cook gently for another 30 minutes until the meat is tender. Season to taste with salt and pepper and then toss in the pomegranate seeds and fresh herbs. To serve, sprinkle with remaining pomegranate seeds, herbs and orange zest.
Serve with buttery couscous or hunks of crusty bread to sop up the delicious juices!
Yield: 4 servings (or 2 plus leftovers!)