Todays blog is written by Yinova Center Acupuncturist and Herbalist Liz Carlson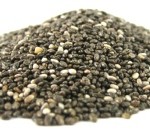 My sister who is 32 weeks pregnant and at risk for gestational diabetes came across a delicious treat that is friendly both to your blood sugar and your taste buds. Thanks to her discovery, I am getting more nutrients from this new dessert than I am in some of my main meals.
What we have come to call "the chia treat" is composed of chia seeds, coconut milk and agave syrup.
Although you probably have come across chia seeds only while watering your chia pet (yup, we're talking about the same seeds here) the seed is actually an ancient crop deemed "the running food" by the Aztec culture. Chia seeds are rich in essential fatty acids, such as omega-3, and loaded with anti-oxidants. The chia seed also boasts the ability to regulate your blood sugar, which is very important for any person but especially for pregnant women and diabetics. The chia seed also has the capacity to help the body regulate blood pressure and keep the body well hydrated. The chia seed has the ability to hold about ten times it's weight in water and thus encourages hydration in the body (great for those concerned about electrolyte balance due to morning sickness).*

If the chia seed has not yet won you over with it's nutritional accolades, perhaps it will with it's pleasing tapioca like consistency and it's ability to take on any flavor that you throw it's way.
The recipe that I use is as follows:
1 tbsp chia seeds
3/4 cup water
1/3 cup light coconut milk
1 tbsp agave syrup, to taste
Whisk together the water and the seeds and let the mixture sit for 20-30 minutes. As you will see, the mixture has become a gelatinous substance.
Add coconut milk to your liking (light coconut milk is best as it is smoother than the full fat) but I think about 1/3 of a cup does the trick
Add agave syrup to your liking as well but 1 tablespoon seems to be enough
Agave syrup is the best sweetener as it is low on the glycemic index and does not affect blood sugar like most sweeteners do.
Try and forget about the fat content and calorie count of the coconut milk as coconut milk is a great source of healthy fat; the kind of fat that will keep your skin and hair looking healthy and radiant.
Pick up chia at most healthfood stores or find them online here. Make your treat and enjoy it knowing that you are doing something great for your body!
Enjoy.
*These claims have not been evaluated by the FDA.