Join Jessie Weinberg, the Director of Pelvic Health at SPEAR Physical Therapy, and Jill Blakeway, Yinova founder and Doctor of Chinese Medicine, for a discussion on how to combine acupuncture and physical therapy to address pelvic disorders, especially those with a gynecological, urological, or digestive root.
Together, acupuncture and Physical Therapy can help calm the nervous system, relieve pain, align and balance the muscles, facilitate "normal" pelvic floor tone, reduce scar tissue, as well as balance the hormonal, gastrointestinal, and urinary systems to facilitate a sense of well-being.
Together, they'll offer advice on conditions like endometriosis, painful sex, vulvodynia, stress incontinence, interstitial cystitis, IBS, pelvic and genital pain, urinary frequency or retention, constipation, diarrhea, and painful bowel movements. They'll discuss postpartum pain and diastasis and will be happy to answer any questions you may have as well!
This event is free to attend, you can RSVP here.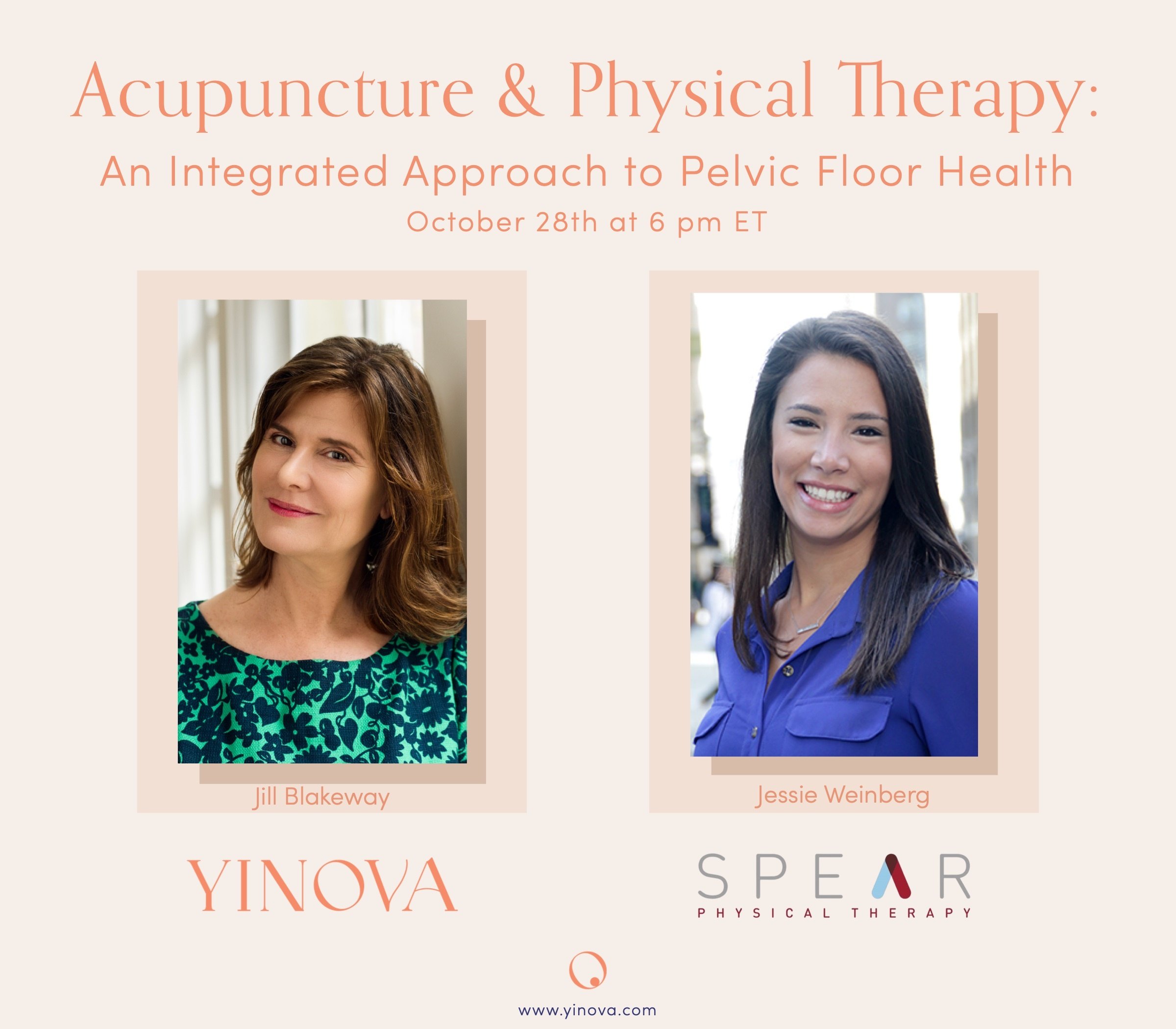 Learn more about the speakers
Dr. Jill Blakeway, DACM, LAc
Dr. Jill Blakeway is a Doctor of Acupuncture and Chinese Medicine, a licensed and board-certified acupuncturist, and clinical herbalist. Jill founded the Yinova Center in 1999 and currently acts as Clinic Director. As a practitioner, she is known for her intuitive approach to Chinese medicine and particularly for her skills as an acupuncturist and energy healer.
Jill has always been passionate about helping women achieve a healthy pregnancy—so much so that the New York Times described her as a "fertility goddess" and named her as one of Manhattan's top acupuncturists. She credits much of her success to combining the ancient wisdom of Chinese medicine with modern, conventional biomedicine. To this end, she joined forces with a reproductive endocrinologist to co-author the bestselling book, Making Babies: A Proven 3-Month Program for Maximum Fertility (Little Brown, 2009) about how to conceive naturally. She also authored a second book about women's sexual health called Sex Again: Recharging Your Libido (Workman Publishing, 2013). Jill's third book Energy Medicine: The Science and Mystery of Healing (Harper Collins) was published in 2019. In it Jill describes what it means, personally and scientifically, to be an energy healer and draws on cutting-edge research to explain how acupuncture and energy medicine work.
Jill's expertise extends beyond her clinic; she founded the acupuncture program at NYU Lutheran Medical Center in Brooklyn, NY, where she acted as Head of Inpatient Acupuncture Services for many years. She currently teaches gynecology and obstetrics as a visiting professor in the doctoral program at Pacific College of Oriental Medicine in San Diego and in Chicago. She speaks at Chinese medicine conferences and her research has been published in the Journal of Alternative and Complementary Medicine. Jill was the first acupuncturist to ever give a TEDTalk, at TEDGlobal in 2012.
Dr. Jessica Weinberg, PT, DPT, CSCS
Jessica "Jessie" Weinberg is the Director of Pelvic Health at Spear Physical Therapy. She earned her Doctor of Physical Therapy degree from New York University. Jessie attended the University of Illinois Urbana-Champaign for her undergraduate studies, where she received a Bachelor of Science in Kinesiology and graduated with high honors from the College of Applied Health Sciences. Jessie was a research assistant in the Exercise Psychophysiology Laboratory and served as Human Relations Chair of her dance troupe.
Jessie is a specialist in pelvic health and enjoys treating diverse pelvic health diagnoses including pelvic pain, pregnancy-related conditions, post-partum conditions, bowel, bladder and sexual dysfunction and male pelvic floor dysfunction. Jessie has taken several continuing education courses in pelvic health through Herman & Wallace Pelvic Rehabilitation Institute including Pelvic Floor 1, 2A, 2B and Manual Techniques for the Pelvic Therapist. Jessie is also a Certified Strength and Conditioning Specialist through the National Strength and Conditioning Association. Jessie is passionate about incorporating exercise and wellness into an individualized treatment plan to help her patients reach their goals.
Jessie has always been active. Growing up, she participated in several sports including volleyball, track and dance. She now enjoys staying active by spinning, playing tennis, yoga, hiking and taking dance classes. Aside from exercise, Jessie enjoys cooking, reading and spending time with family, friends and her dog, Nala.