Acupressure is a fantastic way to access the acupuncture points without actually using an acupuncture needle. Acupressure is great for people who can't make it in to see their acupuncturist regularly or even for people who simply aren't comfortable with needles to get acupuncture. Acupressure is the simple act of manually pressing on an acupuncture point, but to make things even easier, acupressure magnets can be used instead.
Acupressure magnets are a great way to get the therapeutic benefits of acupressure without having to continually press on an acupuncture point. They're an easy hands-off approach to acupressure, and also have the added benefits of the healing therapies of magnets. Acupressure magnets come in gold and silver and are adhered to a circular piece of medical adhesive, like a circular bandage. Gold magnets are used to strengthen and nourish, and silver magnets are used to sedate and reduce. Regardless of silver or gold, when used medicinally, magnets increase blood circulation, encourage the body to release endorphins, and speed up the recovery time of an injury.
Along with buying a sheet of acupressure magnets online or at any of the Yinova locations, you can also request that your acupuncturists incorporate acupressure magnets into your treatment. Similar to ear seeds, they're a great addition to any acupuncture session and can prolong the treatment by continually stimulating the acupuncture points used during your acupuncture appointment.
Where to Start
If you're looking for a point to start using your acupressure magnets on, PC 6 is a great point to start. PC 6 is found between the two tendons on the inside of the wrist, about three fingers below the crease of the wrist. PC 6 has a powerful connection to the diaphragm and is a great point for anyone dealing with breathing issues or for anyone unable to take a deep, diaphragmatic breath. PC 6 is also a fantastic point for nausea and is famously used in motion sickness bracelets to prevent nausea. It is also a terrific point to treat anxiety and can access the parasympathetic nervous system, also known as the "rest and digest" state.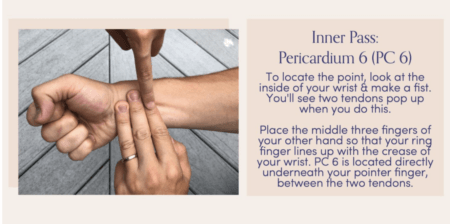 If you don't have access to acupressure magnets, you can DIY them yourself by placing a small bean, like a lentil, over an acupuncture point and taping it down with a piece of medical tape. Additionally, the magnets from acupressure magnets can be removed from the circular medical adhesive and reused with new medical tape.