I'm often asked by my patients how I got into this type of Medicine. When I tell them I was originally needle phobic and tried it as a last resort to help with grief, the majority of them say – "I had no idea acupuncture could work for that." To which I usually reply, "neither did I – until I tried it."
Back in March of 2003, my father passed away due to a long battle with Alcoholism. I was his primary caretaker, his youngest daughter of five, and the one who followed his every step as a child. Losing him was unbearable for my sisters and me. After years of coping with what we knew was coming, the physical pain culminated in a pain that felt like anvils were on my neck and shoulders. I tried all avenues to resolve the pain – pain medications, massage, meditation, therapy – all to no avail.
At the time, a friend and colleague recommended Acupuncture, which I did not know could work for grief and swore by how well it helped her in her own healing process. I had a major fear of needles, and I honestly still clench up whenever I have to get blood drawn. My only experience was getting my blood drawn with hypodermic needles, designed to either put things into your body or take things out. Needles were not used for this type of healing and relaxation where I grew up in North Philly. Needless to say, it took a lot of convincing and allowing myself to take the advice from colleagues who I knew had more experience with Eastern Medicine and coping with major life transitions.
My first treatment felt like a major weight was lifted off of my spirit. It washed away the years of fear, anger, and resentment that I experienced. It almost felt like someone had finally taken a lid off of the tea-kettle of trauma that was clearly whistling for relief. My neck and shoulder pain was gone, and my ability to cope with my grief became a lighter weight to carry. After years of treatment for grief and other ailments, I wanted nothing more than to learn how to share this newfound knowledge of healing and preventative medicine as treatments for transitions in life.
We've experienced a lot of transitions in the year since COVID Quarantine began. Some of us enjoyed the virtual work environment and working from home (for the first time in a long time, if ever). But by the third day of using Zoom, many of us melted down like Peter Finch in the movie "Network." Although this film is a little before my time, I remember my father referencing it often when he was on the verge of spontaneously combusting.
Quarantine was/is a time of transition. Seasons transitioned. Relationships transitioned: some grew stronger while some withered apart. The transition of economic status: some found new amazing ways to grow their field while others had to downsize or shut down altogether. The transition of patterns: we all had to find new ways to share with our friends and families without putting them or ourselves at risk. Many people sadly transitioned.
Overall, we were not prepared for the overwhelming feelings of loss, change, and grief that we would all experience in one form or another.
While some people were affected on a more Universal level, others were impacted directly, and customary forms of grief like holding a transitioning loved one's hands through their process were impossible. Transitions that may or may not have been due to COVID-19 had to be experienced with little or no physical support. The lack of support put a huge mental and physical strain on healthcare workers and families alike.
These experiences have led to a different type of mourning. One that does not allow for closure as easily because of an overarching feeling of unjustified absence, Post Traumatic Stress Disorder, or survivor's guilt. As a result, the various stages of Grief can cycle out of control.
There are five stages to grief
Denial

Anger

Bargaining

Depression

Acceptance
While these can coexist, there is usually one that stands out more than any other, and the stages can cycle or repeat themselves. At times, and especially over the past year, we don't even know the stages are occurring, and we're just going through the motions, hampered by random emotions or trying to stay safe/well.
In Traditional Chinese Medicine, we try to work with the stage our patient is in and focus on the Meridians that can be affected by emotional changes. We consider the seasons, the pulse, the tongue, the overall constitution of the patient, and any pre-existing conditions while trying to prevent disharmony in the patient's overall presentation. As we transition back into the Spring season, there is no better time than the present to begin to deal with the balancing of these emotions.
Spring is the season associated with the Wood element. In the stages of grief, the Wood element is associated with the Liver Meridian, which can present itself with Anger and Impatience. Wood is known as being flexible, adjusting, growing up, and branching out; though when in excess, this can lead to lashing out, and when repressed, this can lead to stagnation/depression. When the Meridian is not in harmony with the other elements, it can feel like a tree growing in a tiny hut with limited ceilings: cramped, overwhelming, painful, and staggering. Physically this can lead to short tempers, mood swings, high blood pressure, strokes, ailments of the eyes (hence intense seasonal allergies), headaches, increased sighing, or digestive issues like alternating constipation and diarrhea.
In Eastern Medicine, the harmony and corrective flow of the Meridians fall within Five Elements, each with an Internal (Yin) and External (Yang) organ that have a mutual relationship: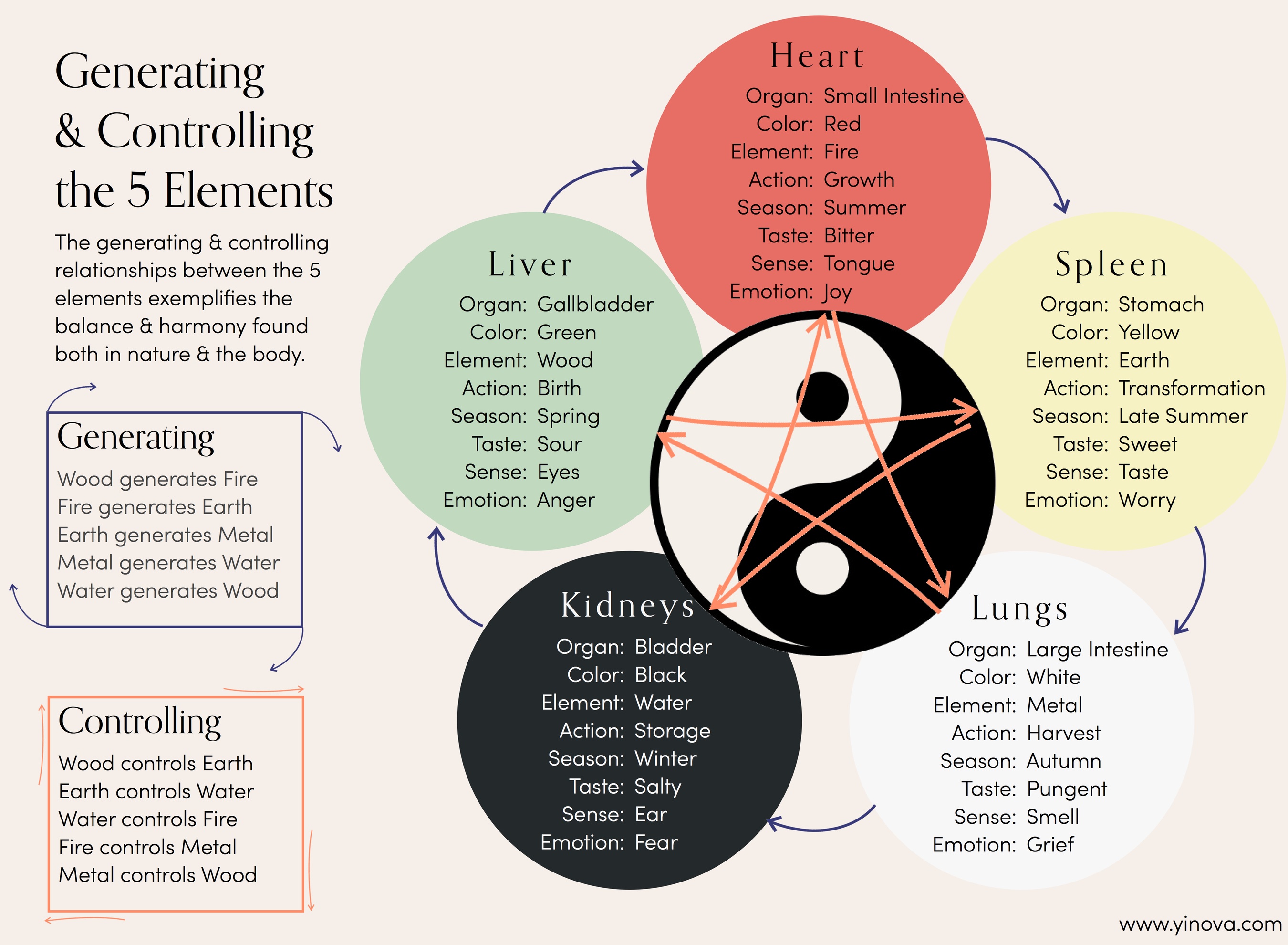 The Metal element controls Wood. Metal is associated with the Lung Meridian, the most delicate organ that enriches and provides the Qi (Energy) flow of the body and allows for the free flow of emotions. Metal is the Meridian that is most closely related to the Lungs and Colon, and the Grief emotion can cause a disturbance in both.
In the control cycle, when there is proper flow, Metal is able to control Wood in order for emotions to not become overpowering/overwhelming. During this season, we also begin to transition from Yin to Yang, which is dormant, becoming more active and outgoing. For those who are already in Harmony, transitions of seasons come as second nature and are balanced. For those that are not, our instinctual awareness is stunted, and it requires a bit more work and practice to nurture our own nature.
Here are some ways to help create that balance:
Diet
Eat warm foods like wheats and oats. These can be grounding foods and can help with the production of blood which is stored in the Liver. The taste associated with your liver and the Wood element is Sour. For patients who have issues with Tendon and Sinew pain – we ask them to avoid this flavor; for those who have no pain, we ask them to start their day with Lemon or Lime water to help jump start and pucker up the Liver.
The taste associated with your Lung/Metal Meridian is pungent. Unresolved Grief can cause long-term contraction of the Lungs and affect the dispersing of nutrients and Qi/life energy through the body. Most people are unaware that taking long, deep breaths during a meditative state can help with unraveling grief constructively by nourishing the Yin of the Lung. A good recipe for nourishing Lung Yin is poached Pears in local honey and cinnamon. I usually prepare this by cutting a pear into slices and then poaching them for 5-10 minutes in a tablespoon of water, 1 tablespoon of local organic honey, and lightly sprinkle them with cinnamon. It not only helps to fill the space with a great smell but it's also delicious!
Exercise
Go for long walks and appreciate the bloom that will soon start to happen naturally. The eyes and your sight are the senses associated with the Liver, and helping to soothe these is very important. In spring, seasonal allergies are a huge issue for some people and can impede outdoor activities, so a good home remedy is to get local, organic honey from a farmer's market and add 1 teaspoon to your morning tea/coffee to help boost your immunity to allergens. Walking and movement (even if just around your living room!) also help to restore and circulate the Qi of the Lung.
Breathwork
Breathwork can help you feel calmer, among other health benefits. Breathing slowly slows your heart rate, which will allow your body to relax and enter into a more passive, parasympathetic state. We will sometimes recommend Qi Gong to patients. Here are two short QiGong videos (one for the lung and one for the liver) that I love!
Acupuncture
Acupuncture can be very helpful for regulating emotions and calming stress. A trained Traditional Medicine Practitioner will be able to assess if your condition is one of excess or deficiency and come up with a proper treatment plan for you. Herbal medicine, dietary advice, and exercises are common parts of treatments used along with acupuncture.
Weekly acupuncture became a regular part of my healing process, and it helped improve my overall health. It's also helped me treat acute disorders like stress fractures (stay tuned for more on those trials and tribulations).
When we're stressed, our bodies go into self-preservation mode; by regulating and balancing our ecosystems, we're able to listen to signals in our bodies because we're not cluttered by stress hormones.
At Yinova, we focus heavily on making sure that we help reduce stress for our patients and make sure that their emotions are balanced. A body in harmony with the mind is capable of doing many great things!
It's been very important for each of us to find our own rhythm of what works best for us during the past year. Now that more people are getting vaccinated and COVID cases are starting to decline, more people are beginning to reconnect with their loved ones and venture out of their homes. It's a very good time to remember those who were not as fortunate. It's also a very good time to start implementing preventative medicine to continue caring for ourselves and our families.
---
In loving memory of my father (who passed away in 2003) and the 2.6 Million+ people worldwide who lost their lives due to COVID-19. In praise of our first responders and Medical professionals.