What is the Yinova Center?
The Yinova Center is a leading acupuncture and Chinese Medicine practice acclaimed for its expertise in women's health. Working in partnership with patients, Yinova is dedicated to providing integrative care with meaningful results.
At the Yinova Center, we believe that good medicine combines the best that Eastern and Western medicine has to offer, and our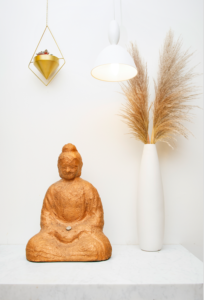 practice is rooted in the wisdom of traditional Chinese medicine, adapted to the needs of modern New Yorkers. We've been practicing this way since 1999 and we call what we do the Yinova Method.
The center is home to some of Manhattan's best acupuncturists and health practitioners, led by husband-and-wife team Jill Blakeway and Noah Rubinstein. The New York Times named Jill andNoah as two of New York's best acupuncturists and the work of the whole Yinova team has been featured widely on TV and radio and in newspapers and magazines.
We are proud to provide acupuncture and Chinese herbs from an experienced team of practitioners of Chinese medicine. We also offer many forms of bodywork from massage to Structural Integration to nutritional advice, and support groups in a spa-like setting, that is a tranquil retreat from the hustle and bustle of downtown Manhattan.
We treat a variety of chronic complaints from allergies to anxiety, infertility to insomnia, pain to pimples, digestion to depression — and much more. We are particularly well known for using Chinese medicine to enhance fertility.
The Yinova Center is a natural home for people who are juggling complicated lives, trying to support not just their own health but also the health of their loved ones. This describes not just our patients, but also our practitioners! We have struggled with our weight, dealt with chronic illnesses and worried about our parenting — and our aging parents. That is, we understand your health journey because we are navigating our own. We are proud to say that at the Yinova Center we are never dogmatic or self-righteous about what we teach — we can't be, because we know only too well that we have our own weaknesses. We are practicing Chinese medicine the way you have to use it: in real life.
We care for New Yorkers of all ages from small babies to senior citizens and are particularly well known for using Chinese medicine to enhance fertility. Click here to find out more about what we treat.
---
"Strike up a conversation about acupuncture or alternative medicine and all roads inevitably lead to Jill Blakeway or Noah Rubinstein – or both. The wife-and-husband team, working out of the Yinova Center, just south of New York's bustling Union Square, perfectly epitomizes acupuncture's shift from fringe medicine to legitimate treatment option." — TOWN AND COUNTRY
"Best Acupuncture In New York City! I met Jill when I first moved to New York. She had been described to me as the goddess of fertility and I was trying for a baby so was keen to give it a go. I started having acupuncture with her, but very quickly found that I was also confiding in her, using her as a resource to navigate the complications of finding a good doctor, how to get the most from my healthcare coverage and a million other stress-inducing complications. She is the most warm, compassionate, understanding and informed therapist. She really does offer alternative "therapy". I leave my sessions with Jill calmer, happier and re-energized. I would recommend the Yinova Center to anyone, but most especially to any woman struggling with fertility or trying to conceive. Every time I visit the center I feel nurtured and re-centered and you will too."— VENETIA, NYC