In her novel Red Clocks, author Leni Zumas imagines a world in the near future where both abortion and IVF have been outlawed and legislation barring single people from adopting is poised to take effect. The book was inspired by Zumas' own experience of conceiving a son through IVF, her "wild, sweet, stubborn, beautiful boy."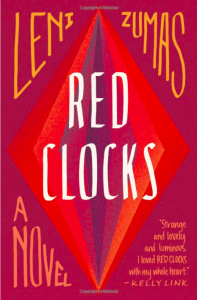 In a recent essay for The Cut entitled Maybe There's Nothing Natural About Motherhood, Zumas re-visits her own complicated feelings about the IVF process, as well as the reactions of those who condemned the process as unnatural. "If you can't get pregnant the old-fashioned way that means you shouldn't be having children," someone told her.
Later, friends in her hometown of Portland, OR charged that it was her decision to give birth in a hospital rather than at home and that that too was unnatural. "Women have been giving birth for thousands of years! Your body knows what to do."
Zumas delivers an incisive analysis on the many ways the narrow concepts of what's "natural" about motherhood "can undermine all parents." In reading her essay, I was particularly struck by the power of her prose as well as the sharpness of her thinking and wanted to share it with the Yinova community.