Stir-fries have become a favorite dish of mine since they are not only quick and easy, which works well with a busy schedule but provides a multitude of variations in ingredients. This recipe came together one day as a result of using leftover veggies found in my fridge and some additions I thought would be yummy. Now I must add that I was a bit of a latecomer to the quinoa craze and this dish was my first real attempt at cooking and incorporating it into a meal.
I was inspired to finally try quinoa because of the many wonderful health benefits I'd been hearing and reading about it. Likewise, I'd gotten a bit tired of using rice as the go-to grain, mainly due to the inflated feeling it left after consumption. Out of curiosity, I did some research on the nutritional content of quinoa compared to brown rice and found that quinoa doubles the protein and mineral content of rice. It also excels as a superfood by providing a source of complete protein (all 9 amino acids needed by the body) and a gluten-free, low-calorie grain (though its actually a seed!).
Knowing that my partner will not willingly eat something "super healthy" I had to make sure the quinoa stir-fry was deliciously deceptive. Well the plan worked because since that night I first cooked it, we both fell in love with this delicious and versatile seed! I've since made several variations of the recipe, but this original one is my favorite as it is both light & filling, and provides a wide variety of flavors and nutrients from the various veggies. The cherry tomatoes added at the very end give a fresh burst of sweetness!
Quinoa Stir Fry with Chicken and Veggies
This recipe can be modified to suit any vegetables you like and can be made vegetarian/vegan by removing the chicken.
Ingredients
3/4 cup quinoa, rinsed
2 tablespoons olive oil
1 medium yellow onion, chopped
1 small yellow squash, sliced
1 small zucchini, sliced
1 cup chopped baby bella mushrooms, sliced
1 cup cherry tomatoes, halved
1 cup snow peas
1 medium-size skinless chicken breast (about 4-6 ounces)
salt and pepper to taste
Instructions
Place the quinoa into a small pot with 1 1/4 cup water and 1/4 teaspoon of salt if desired. I use my favorite Eastern European seasoning, Vegeta. Bring to a boil then cover, reducing the heat to a low simmer. Allow to cook for 15 minutes then remove from heat and let stand with the cover on for another 5. Fluff with a fork.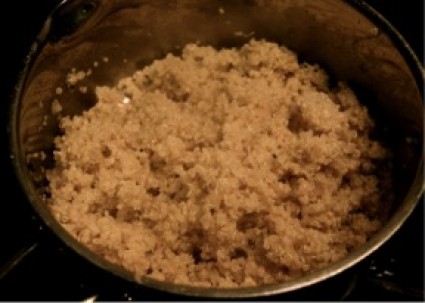 In the meantime, slice chicken breast into strips and season with some salt and pepper. Add to a large skillet over medium-high heat with 1tbsp olive oil. Cook, stirring occasionally for 8-10 minutes till cooked through and a little bit browned. Transfer to a plate and set aside.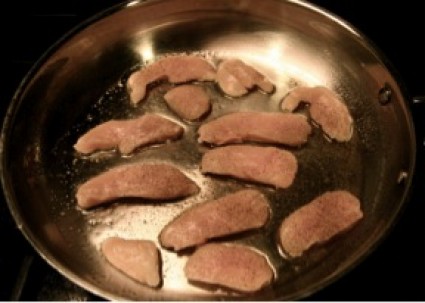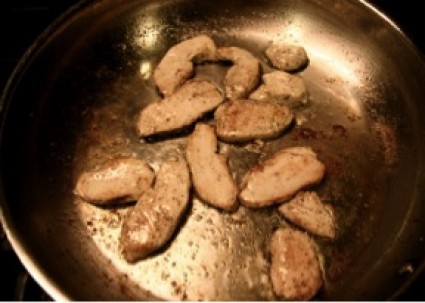 Add chopped onions to the pan and cook until softened, about 3-4 min. Add mushrooms, squash, and zucchini with additional 1tbsp olive oil. Cook, stirring often till veggies have softened slightly, about 8 minutes. I like to cover the skillet with a lid and the veggies sweat for a few minutes as well to speed up softening.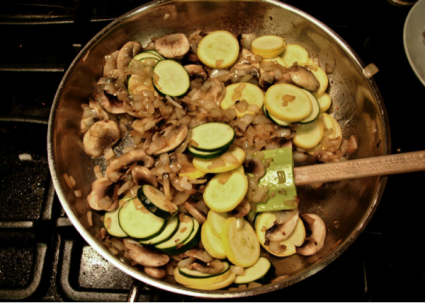 Add snow peas and cook for another 2-3 minutes till they turn very bright green.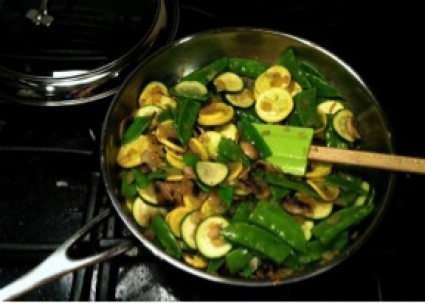 Reduce heat to medium-low and add the chicken back to the pan. Stir.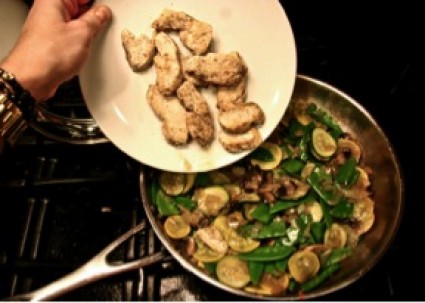 Take the cooked quinoa and carefully add it into your chicken veggie mix, (your skillet may be very full like mine) stir together well, until heated through, about 1-2 minutes. Remove from heat.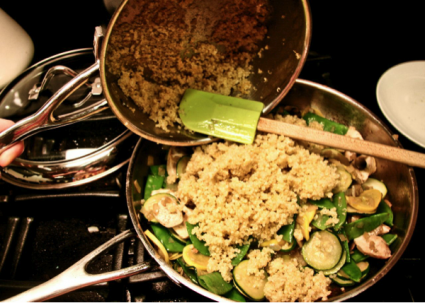 Add the halved cherry tomatoes and give everything one more good stir.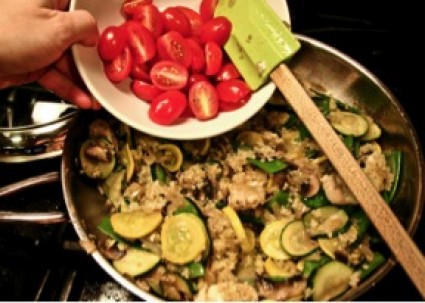 Serve warm and enjoy!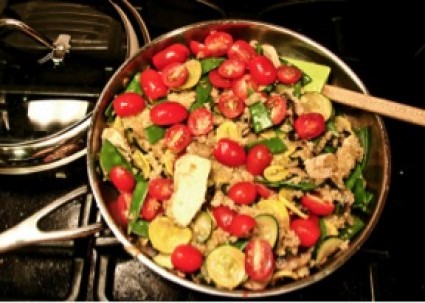 I like to top off my plate with another favorite seasoning, Seaweed Gomasio by Eden Organics, which adds a lovely bit of crunch and saltiness from toasted sesame seeds, sea salt, and sea vegetables.
Happy eating!