Each time I prepare for a cleanse, I always end up doing a lot of reflection. Attempting to change our daily habits often initiates some thought about why we do the things we do. I can tell I need to cleanse…I've become a little sluggish lately, have put on a few pounds, and have been reaching for things like sweets, coffee, and rich foods more than I usually do. As I reflect on the reasons why these things have become more abundant in my life, I see multiple sources like feeling an increased level of stress, traveling, spending time with friends, entertaining guests, wanting to reward myself or just to try and relax. While some of these are legitimate reasons, doing something like a cleanse helps me to recalibrate what I'm feeling and how I'm living. Too often our lives become so busy that we forget to pay attention to what we are putting in and on our bodies and how that is making us feel.
This is the perfect time of year to do a cleanse. Springtime is the time of the Liver in Chinese medicine, which is the main organ of detoxification for our body. Spring also initiates new growth and the abundance of fresh local produce. We shift from a heavier warming winter diet to a lighter, fresher, more raw diet as these fruits and vegetables become available. It is a natural transition. And what better way to shift our daily eating habits than a concentrated time of clean eating or even fasting, allowing our bodies to let go…of old habits, toxins, waste, and addictions like caffeine and sugar.
At the Yinova Center, we do a month long cleanse in the Spring beginning with a week long colon cleanse. This prepares our bodies for a deeper internal cleanse where we can really do some detoxification of our organ systems. During the colon cleanse, we do five days of liquids only (this is optional, but most effective for the cleanse). I have to admit, I am a little intimidated by the idea of only liquids for five days.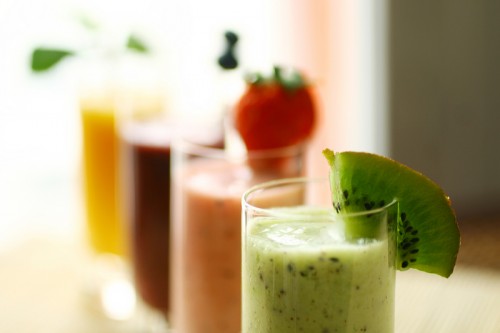 I am for the most part a healthy eater, but I do absolutely love food. I love to cook delicious healthy meals and I also love the occasional steak, lobster, or chocolate soufflé. For me, doing a cleanse like this is more than just changing my daily habits. I find I have to get my mind on board too. I have to dig deep to understand what it is I'm actually feeding on a daily basis. Is it my body? An emotion? My fear? My ego? Am I eating a certain way so I don't make other people uncomfortable?
While I'm intimidated about the coming weeks, I know this is more than just something for my body. It is also helping me understand my mind, and how that is affecting my diet and lifestyle, and in turn, my health.