Yinova Ambassador Kristin McGee has a yoga pose for everything you could possibly think of! We asked her for a quick pose to help boost our energy.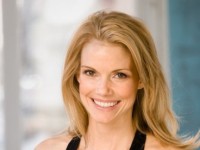 Kristin McGee:
As a fitness expert, Kristin has appeared on CNN, FOX, the CBS Morning Show, ABC's Good Morning America, The Tyra Banks Show, and the Isaac Mizrahi Show. She has contributed to magazines such as Pilates Style, Fit Yoga, Health, Shape, Fitness, Self, In Style, Women's Health, Body & Soul, and Prevention. She is a Contributing Editor for Health Magazine. Kristin has graced many magazine covers including Pilates Style and Fit Yoga. Kristin is an avid spokesperson for companies and causes that promote health and wellness. She is also Fila's Yoga Ambassador.
As we head to Fall, I know I will need extra energy to tackle all that I have planned! Luckily, there's a perfect yoga pose to get me going—Warrior 3.
This standing pose requires a lot of concentration: By focusing on balance, plus engaging my leg and core muscles, I wake up my brain and body, which gives me a quick shot of energy. (For an even bigger boost, I imagine a ray of light shooting out of the crown of my head, adding brightness to my life.) What's more, this awesome pose can be done anytime, anywhere, whether you have a yoga mat handy or not. Use Warrior 3 to get a little lift every day.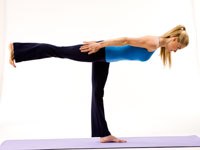 How to do it:
Stand with feet together and arms at your sides.
Raise right foot, with toes pointed, while shifting weight onto left leg.
Lift right leg straight up behind you while hinging at waist to lower chest until parallel to floor.
Keep core braced, lower-ab muscles pulled in, and shoulders down and back.
Flex your raised foot, keeping leg straight.
Breathe in and out 5 times, focusing on a stationary spot to help with balance.
Return to standing on both feet; repeat on other side.
Make it easier: Reaching your arms out to the side like airplane wings can help you keep your balance, or you can hang onto the back of a chair or reach out and touch a wall if balancing on 1 leg is too difficult. The important thing is to keep your back flat and your body in a straight line.