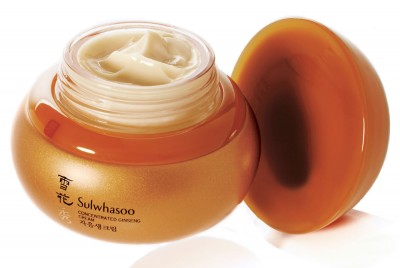 Many of you will be joining YinOva Founder and Clinic Director, Jill Blakeway, at Bergdorf Goodman this evening to sample some wonderful cosmetics from Sulwhasoo of Korea. Based on thousands of years of wisdom these creams and lotions are made from healing Asian herbs, prepared in accordance with hundreds of years tradition, combined with the best modern delivery systems, ensuring the active ingredients reach the skin. Sulwhasoo designed this line based on the Korean Medical concept of
Sang Seng
which is a way of saying that people feel good and look good when opposite energies in the body are brought into harmony and balance. This is often described as balancing yin and yang and the herbs in these products are mostly yin and yang tonics with each herb carefully selected and prepared to do the following: – Qi and Yang tonics such as astragalus and ginseng are selected to
Reduce puffiness by moving retained fluids
Make the skin more elastic and buoyant
Improve blood circulation to help complexion
Yin tonics such as ophiopogonis and rehmannia are selected to
Hydrate the skin at a very deep level
Reduce inflammation and cool the skin
Nourish the skin to reduce the appearance of fine lines and wrinkles.
Wildly popular in Korea these products have, up until now, had a cult following amongst those in the know in the US. We first heard about them when some of our patients started to get friends to bring Sulwhasoo Concentrated Ginseng Cream back from Asia. Now they are available for the first time in the USA at Bergdorf Goodman and Jill is delighted to use her knowledge as an herbalist to explain their ingredients.