Italian Wedding Soup
Serves 6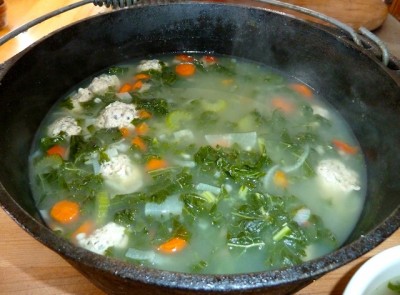 1/2 pound uncooked ground turkey breast (preferably organic)
1 large egg white, lightly beaten
2 Tbsp dried panko bread crumbs
1 1/2 Tbsp grated Parmesan cheese
1 1/2 tsp dried oregano
1/2 tsp garlic powder
Salt and pepper
8 cups fat-free chicken broth
3 cups kale, thinly sliced
1/2 cup daikon radish, thinly sliced
1/3 cup red bell pepper diced
1 stick of celery, thinly sliced
1/2 cup onions, thinly sliced
1/3 cup carrots, thinly sliced
3 tbsp pearl barley
In a medium bowl, combine turkey, egg white, bread crumbs, cheese, oregano and garlic powder; shape into 3/4-inch balls.
Spray some olive oil in a large caste iron pot and saute the onion over a low heat until transparent.
Add the carrots, celery, daikon, red bell pepper and saute for 2 minutes
Add boiling broth and stir in barley and simmer for 5 minutes
Add the kale and meatballs.
Return soup to boiling and then reduce heat to medium. Cook at a slow boil for 15 minutes.
Soup is done when meatballs float to the top the kale is wilted and the barley is soft.
A portion is 1 1/2 cups of soup and 5 to 6 meatballs.
Enjoy!!

Calories per serving: 170
I love Italian Wedding Soup but some recipes can be quite high in calories. This healthy version uses ground turkey instead of beef and is packed with veggies for their nutritional value. I also tossed in some pearl barley as a healthier alternative to the pasta used in most Italian Wedding Soup recipes. So yummy!