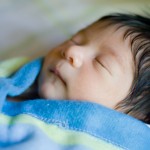 We have a lovely job here at The Yinova Center because we help people have babies. What could be more fun? I can honestly say that all of us are so happy to play a small part in helping you to conceive and we are thrilled when you send us pictures of your new born babies. This week alone we have had six Yinova babies, all of them very longed for and some of them achieved after a long struggle.
Some people have asked me why we don't put pictures of all of our babies on our walls like some practices do. The reason is that we feel that for patients who are having a rough month those pictures can be distressing. If you're recovering from a miscarriage the last thing you need is to sit in the waiting room looking at photos of other people's babies. But rest assured that we keep all the pictures you send us in a big file and we look at them often and with great pride and satisfaction.
So this morning I have been exchanging emails with some new Moms. I have been looking at videos on YouTube of a patient's baby and it occurred to me to write a little about what happens after you bring the baby home. In particular I wanted to talk about ways that we here at The Yinova Center can continue to help you.
I remember feeing very daunted when I first brought Emma home from the hospital. I don't think anyone can prepare you for how demanding a new-born can be. For such a tiny bundle, they are disproportionately consuming. Our house looked like a war zone as I juggled diapers, feeding, sleep and laundry. I remember after one particularly frazzled day, my then husband coming home and asking me what I did all day. (This may go some way to explaining why he's an ex-husband!) In time I developed a system but to start with I was truly at sea, which is why I identify with those of you who call and email me to talk about feeling overwhelmed.
If you find that you are weepy, unable to find joy or depressed it is important that you seek help. 15% of women suffer from postpartum depression and many more experience minor baby blues related to fluctuating hormones combined with adjusting to their new responsibilities. We always advise women who are feeling depressed to consult their M.D., however Chinese medicine can be a really helpful, gentle way of treating depression so please reach out to us even if your new responsibilities stop you from actually coming in to the center to see us.
Breast feeding is another issue that women call and email about. Nothing is more frustrating than having a hungry screaming baby and not enough milk. We have Chinese herbal formulas that can really help with milk production. I am aware that many of you are not able to leave the house at first, so for established patients we are able to do a telephone consult and then have a specifically tailored herbal formula sent to your home. We also have a natural cream for cracked nipples that new Moms swear by.
If you are able to come in and see us acupuncture can be used to restore hormonal balance, help with fatigue and treat postpartum problems such as back pain or poor milk supply. Reiki can also be a lovely, gentle way to relax and speed up your recovery after the birth.
Related Articles on The Yinova Blog: Acupuncture During Pregnancy
Photograph
© Michaeljung | Dreamstime.com