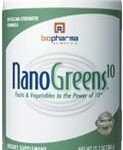 Yinova Acupuncturist Margaret Sikowitz blogs:
Almost a month into the new school year and already many kids have missed days due to colds, stomach bugs and sore throats. It definitely comes with the territory as their little immune systems fatigue easily. In my house we have a morning ritual that I believe keeps them going pretty strong.
We start our day with a morning 'cocktail' of Nanogreens (you may have seen this in our office, we're huge fans). For the kids, I add a little juice or lemonade and they drink about 3-4 ounces (an almost full little juice glass). For further immune boosting they use probiotic straws to drink their pick-me-up, I've yet to meet a kid who didn't like straws. These are great because they are lined with probiotic powder that has no taste and is ingested when liquid passes through the straw. Probiotics are healthy flora lining the gastrointestinal tract so they're great at helping regulate kids' digestion. And we in the world of Chinese medicine also view them as great agents at overall health maintenance since the G.I. system has a strong link to the respiratory system.
Now, in the interest of full disclosure, my very opinionated 6 year-old daughter just declared her need for a break from green juice. I granted it, keeping her on the straws (in a glass of water) and promised a new juice to add to her cocktail when we get back into it next week.
And at this morning's class breakfast party, when each kid rifled through the box of donut holes with their sneeze-covered fingers (my daughter included) I did find myself wondering what her normally green-juice infused stomach might have been thinking. On that I can only speculate, but I know she was overjoyed.
Margaret Sikowitz M.Sc. L.Ac. © September 2008