As this global pandemic has officially been declared a National Emergency, it's safe to say that coronavirus (COVID-19) is on everyone's mind. We have decided to close our centers to allow people to distance themselves socially in the hope that this will prevent the spread of COVID-19.
Here at Yinova, our dedicated team of health care providers are still here to support your physical and emotional well-being. With so much uncertainty right now, we would like to provide some guidance on how to take care of yourself and your loved ones during this challenging time.
Strengthen your Immune System
The coronavirus has spread in the midst of flu and allergy season. Yinova acupuncturists and herbalists Meghan Sultana and Stephanie Dixon wrote an informative blog detailing how to navigate flu season by strengthening your immune system. Having a strong immune system is your first line of defense. Here is a summary of their advice:
Get a good night's sleep and rest as needed

Stay hydrated

Eat warm, nourishing foods like soups and stews, while cutting out processed foods, simple sugars, alcohol, and inflammatory foods.

Reduce stress as much as possible
Increase your supplement routine to include vitamins known for combating viral infections and improving immune function. Here is a comprehensive list:
Vitamin B Complex, which is a combination of B vitamins that strengthen mitochondria, our cellular power packs.
Vitamin C, which

modulates the immune system and helps you fight infection.

Vitamin D, which turns on immune responses throughout our body.
Vitamin E Complex

, which is a powerful anti-oxidant which means it stops chemical reactions in the body that can damage cells.

A trusted Probiotic, which helps to regulate immune-response reactions such as allergies, asthma and viral infections.
Zinc, which helps develop and improve the cells that make up your immune system.
Take Preventive Measures
Wash your Hands –The universal advice that has been unwavering is the necessity of thorough handwashing. Spend at least 20 seconds washing your hands with soap and water. If you're unable to use soup, hand sanitizer that is at least 60% alcohol can be used in its place. When using hand sanitizer be sure to cover all surfaces of your hands and rub it into your hands until they are completely dry. This should take about 20 seconds. It is also extremely important to avoid touching your face, nose, and mouth with your hands as much as possible. Here is a helpful guide from WHO on how to wash your hands as thoroughly as possible: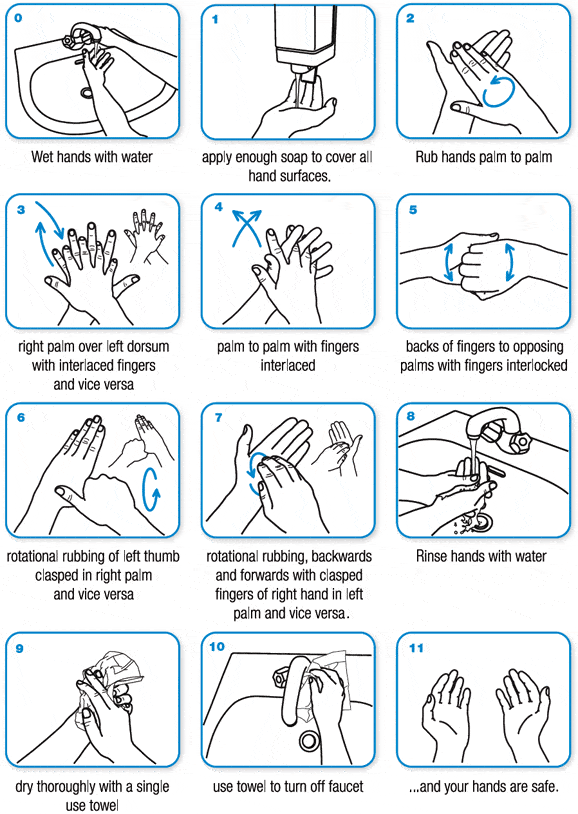 Clean and Disinfect – It is strongly recommended to clean and disinfect high-touch surfaces in your home daily such as doorknobs, light switches, remotes, toilets, sinks, handles, tables, counters, etc. with household cleaners and EPA-registered disinfectants.
Contain – Avoid contact with people who are sick. Stay home if you feel sick. Cover your coughs and sneezes. The main mode of transmission is through respiratory droplets from person to person who are within six feet of each other.
Know the symptoms – These are symptoms that will present within 2-14 days after exposure to COVID-19:
Fever

Cough

Shortness of breath
Keep in mind that it is also cold and flu season, so it can be tricky to decipher which symptoms mean what. Here is a helpful chart with information provided by the CDC and WHO that might help: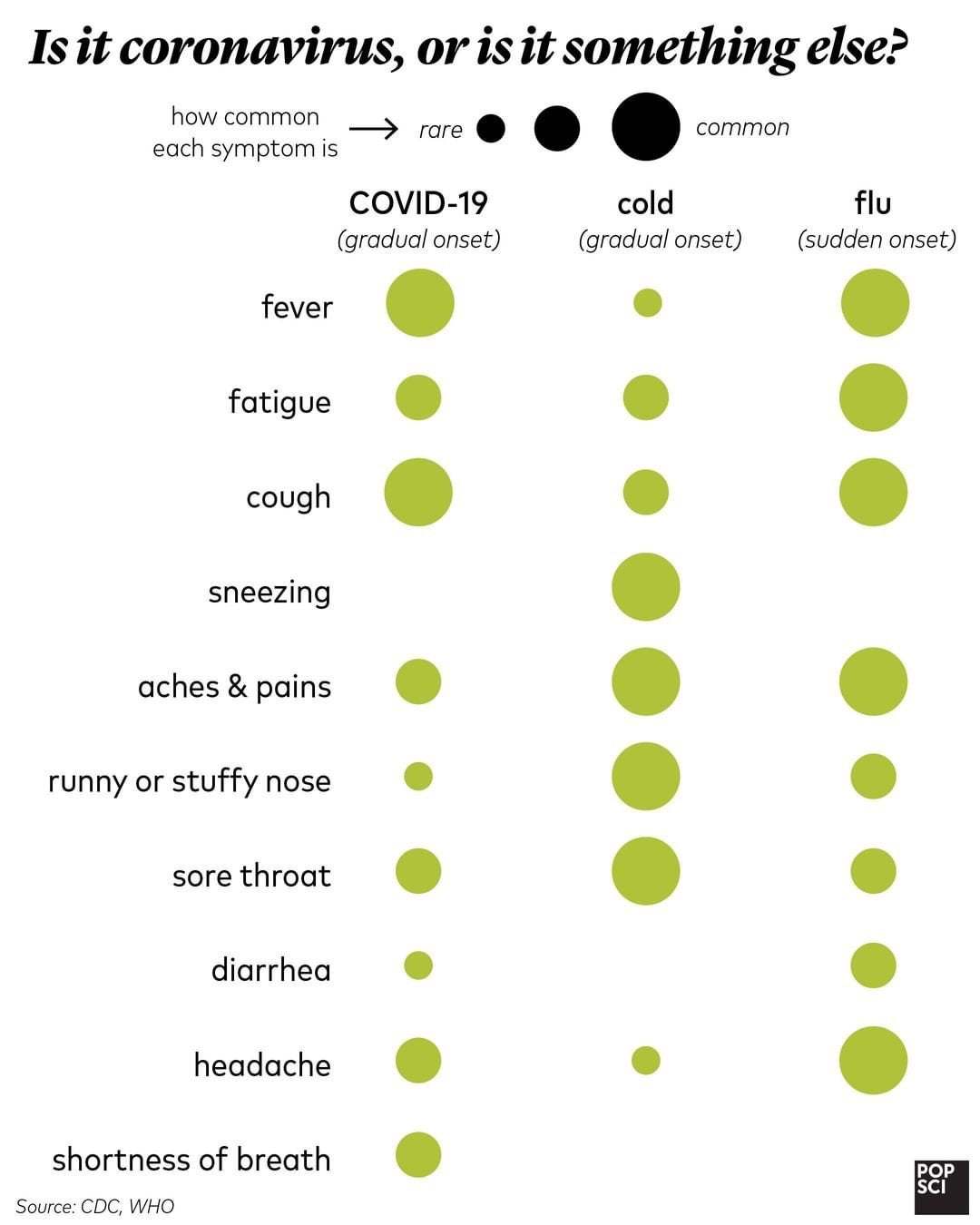 If you have these symptoms, it is advised to remain isolated within your home and avoid all public areas and public transportation unless seeking medical care. If someone in your home is caring for you, or you need to leave your house, it is strongly advised to wear a mask. If symptoms worsen (such as difficulty breathing, persistent chest pain, confusion, or bluish face or lips) you should seek prompt medical care. Call your healthcare provider and tell them that you have, or are being evaluated for, COVID-19. This will help the healthcare provider's office take steps to keep other people from getting infected or exposed. For more guidance, visit the CDC's website.
Stay Informed – Know what is going on with COVID-19, on both a local and global level. The New York Times is a reliable and up-to-date resource.
Have a Plan – Communicate with all members of your family, especially those at high risk due to advanced age or pre-existing conditions, about what a plan of action would be if someone got sick, or if the spread of COVID-19 continues for a few weeks. Identify aid organizations in your community. Know the emergency operations of your children's schools and your workplace. Consult the CDC website – With so much information on the internet, it's best to consult credible institutions like the CDC.
Use Acupuncture and Chinese medicine as a Resource
Traditional Chinese medicine is a highly specialized and adaptable form of medicine. It's ability to treat each patient as an individual enables it to address an array of symptoms and ideally prevent future diseases from arising. At Yinova, our goal is to utilize our skills as acupuncturists and herbalists to provide our patients with comprehensive healthcare so that their immune system is strong enough to fight infection. Chinese medicine has a long history of treatment during epidemics – we have been around for over 3,000 years. In fact, based on the most recent experience in Wuhan, we have valuable insights into how Chinese herbal medicine can be combined with conventional treatments to help prevent illness as well as reduce the severity & duration if you do get sick.
You are still a valued member of our community, whether we are seeing you in person or not. During this time while our offices are closed to observe social distance, you can still reach us for advice; please contact your practitioner for a care plan based on your individual circumstances. If you do not know your practitioner's email or would like general guidance, please reach out to our team at community@yinova.com and they will be able to connect you with your practitioner or field any questions that you may have.
We will be offering virtual consultations for longer clinical conversations and we hope you'll take advantage of this service if you need our advice. Our pharmacy is open and we will continue to refill prescriptions and prescribe new herbal formulas to address any changing health needs. We are working on virtual events to connect our community online. Our monthly book club, for example, will be held on Zoom and we'd love you to join us, especially if you are feeling isolated and are looking for ways to connect.