We are happy to recommend a new book for pregnancy support! Our good friend Jill Hoefs and her colleague Denise Jagroo have written a very helpful book about all the aches and pains and other side effects during the stages of pregnancy. Jill is a trusted physical therapist here in New York City and works with many women before during and after pregnancy to help them manage symptoms.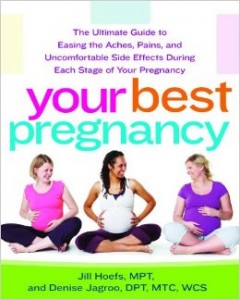 Your Best Pregnancy covers all the discomforts such as back pain, carpal tunnel, and constipation (just to name a few), but also debunks many common fears and myths like "Too much exercise will take nutrients away from your baby." It provides helpful tools like stretches, strengthening exercises, and coping tips to make your pregnancy more comfortable. There are also sections on pelvic floor health (which demystifies the kegel!), sex during pregnancy, tips for getting through bed rest, and preparing for labor. Safe ergonomic tips for lifting and caring for your newborn are also covered, as well as caring for the postpartum mama.
Our very own Yinova Founder Jill Blakeway contributed to the book in a section devoted to acupuncture and Chinese herbal medicine during pregnancy. Learn ways to manage many of the above pregnancy discomforts with acupuncture, acupressure, and safe Chinese herbs.
This book is thorough and incredibly helpful for women who are having a healthy pregnancy but are experiencing uncomfortable symptoms and want to find ways to help themselves. It's a great resource and a fun easy read.