Todays blog is written by Yinova Acupuncturist Margaret Sikowitz.

I'm very excited today. It is my daughter's 7th birthday so there is an air of festivity abounding AND I just learned that one of our overdue pregnant mothers-to-be just gave birth. However, the patient in question was a bit disappointed. First she missed the cut off set by her hospital's birthing center by going too far past her due date, then her doctor diagnosed her with low amniotic fluid and she had to be induced. (She responded beautifully to pitocin, labored for a few hours and gave birth to a healthy baby girl!)
I can relate. I am truly blessed with two healthy children. Still, neither wanted to come out and needed a fair bit of coaxing. Here at the Yinova Center we often get asked about our own experience of labor, especially by the soon-to-be moms. I'm happy to volunteer that mine were not easy, and that both needed an epidural and pitocin. While it wasn't what I wished for or envisioned, it seemed the right move at the time and I definitely got the prizes in the end. I think the acupuncture treatments I had before labor definitely helped and I have no doubt that the ones I managed to squeeze in after aided my recovery (and my post-partum depression, more on that later.)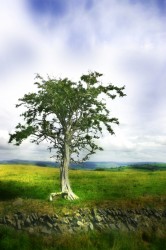 In Chinese medicine, female life cycles occur every 7 years (it's 8 years for boys, they're always a little slower…) So today I celebrate the birth of this new baby, the first cycle of my daughter and more importantly, the unpredictability of life! Toward this end, here's a gem I often ponder, given to me by one of my first Chinese medicine teachers:
Be flexible like the tree and you can withstand all the changes of the seasons.