Po Sum On Oil is a topical analgesic used to increase circulation, warm up painful muscles, and relieve pain. The oil has a delicious cinnamon smell and is applied topically to the skin to provide deep, penetrative warmth for the muscles and tissues.
Po Sum On Oil is a powerful pain reliever because of its jam-packed list of potent ingredients. The oil contains menthol, a handful of Chinese herbs, cinnamon oil, and tea oil. The form of menthol in Po Sum On Oil is derived from peppermint oil, and it's thanks to this active ingredient, the oil has a tingly, analgesic effect. Menthol, which has been used as a non-opioid pain reliever for hundreds of years, activates central analgesic pathways and powerfully relieves pain in the body.
Huang Qin, also known as Baikal Skullcap Root, decreases inflammation and pain in the body when applied topically. Gan Cao, or Chinese Licorice Root, is used topically for a number of skin ailments, including topical poisonings or allergies, frostbite, burns, sores, erysipelas, and eczema. Xue Jie, or Dragon's Blood Resin, improves blood circulation and relieves pain by moving stagnant blood in areas of pain.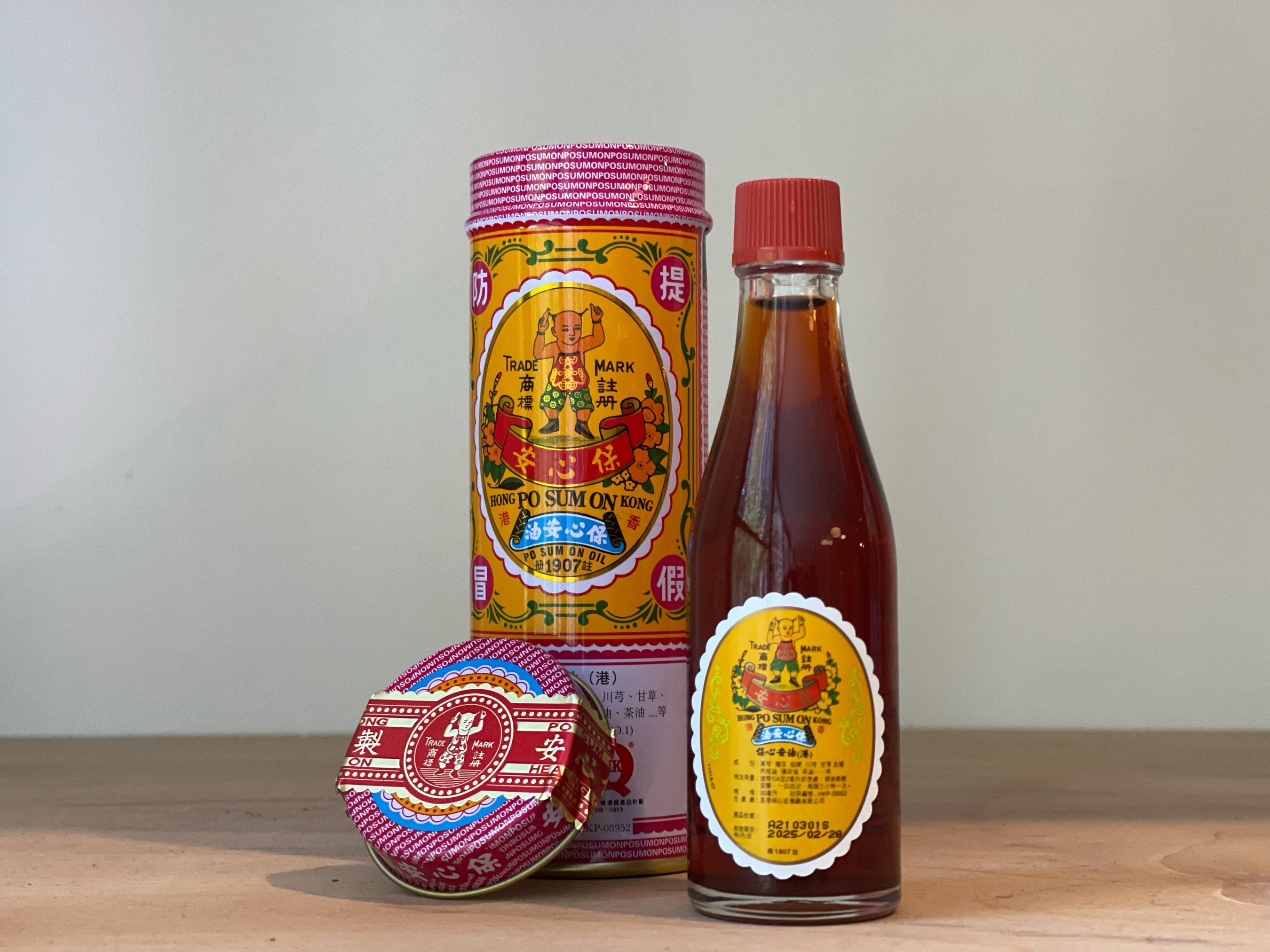 Cinnamon oil has been used for thousands of years to soothe achy joints and muscle pain, and it alleviates pain thanks to its anti-inflammatory and warming properties. Tea oil is derived from the Camellia sinensis plant and is commonly used in topical products due to its anti-aging and anti-inflammatory properties.
We use Po Sum On Oil at Yinova during acupuncture and massage sessions, but it can also be used at home. It's a great topical pain reliever to have on hand for any aches and pains that arise between acupuncture appointments and can even be used before a workout as a muscle warm-up. Po Sum On Oil is sold online from various Chinese medical retailers, and we also sell it in each of the Yinova clinics. You can also request your practitioner to incorporate this delicious oil into your acupuncture or massage treatment so you can experience its tingly, pain-relieving magic!