Prenatal Massage
[pl_blockquote cite="Jill Blakeway"]This week's blog is written by New York massage therapist
Nicole Kruck
. Nicole specializes in fertility massage as well as pre and postnatal massage. We often get asked questions about prenatal massage and decided to put some of these questions to Nicole. Below are her answers. You can book an appointment with Nicole online by clicking
here
.  [/pl_blockquote]
"What is prenatal massage?"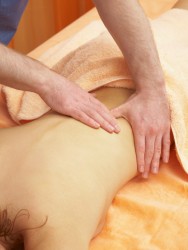 It is just like a regular massage: it loosens the muscles and joints, improves the circulation to you and your baby, and relieves fatigue.
The difference is prenatal massage is performed by a New York certified prenatal massage specialist who is able to target the unique needs of mothers-to-be in each trimester. These therapists are adept at working with specific conditions that can occur during pregnancy such as pelvic pain, digestive and elimination issues to bring you safe relief.
The length of your prenatal massage can range from sixty minutes to two hours depending on your specific needs. Several techniques are employed such as Swedish massage, myofascial, stretching & range of motion, and other modalities to relax and soothe the body, treat and ease tensions. At the end of the session you are left feeling restored, relaxed and comfortable in your happy body. You will also get tips on how to sleep better, foods that support pregnancy, relaxation techniques and exercise to support you during this time of added stress.
As your pregnancy progresses you will find each trimester will hold it's own focus for your body's needs.
"How is prenatal massage different in the first trimester?"
This is when we create the foundation for your pregnancy.
As weight in your belly begins to increases your center of gravity shifts adding stress and strain to weaker areas. This is your opportunity to concentrate on muscles, ligaments, and postural problems to create a stronger structural foundation.
The focus of your first trimester is to address any pre-existing conditions that would include chronic issues: back, neck, shoulder or pelvic pain, sciatica, or other recurring problems. Immediately attending to these issues will support your body's ability to more easily distribute the added weight as your baby grows. Along with physical support massage at this time also reduces emotional anxieties which are important to a healthy foundation.
"What about the second trimester? Does the massage differ?"
In some ways this is your baby's first massage

At this stage the pregnancy is settled in and it is time to focus on uterine support. As your uterus increases in size( 4 oz to 13 lb..) it is easy to over stress the 13 ligaments which give it support. Keeping the ligaments toned easily prevents many debilitating symptoms such as pelvic or back pain, premature delivery, and back labor. However, most importantly massage is a wonderful way to connect to your baby. You will be taught your own self care massage for home play.
"And in the third trimester?"
This is when we start to prepare you for labor.So many internal and external events are taking place in preparation for your labor and birth. As strain to ligaments increase due to weight and increased hormones simple movements can induce pain until the muscles around them are releases. Also uterine pressure to your legs can cause excessive swelling along with blockages to digestion and elimination. Not only does prenatal massage on a regular basis help combat these symptoms but it will also relax your body in preparation for an easier labor, delivery and recovery.
"Should our Yinova Moms still be coming in for massage post-partum?"

Yes indeed. I like to say that we are returning a wandering wombYour body has been put under tremendous stress. Especially in the abdominal and pelvic area where there are many new physical and emotional demands. These experiences – recovering from your pregnancy, delivery (especially with cesarean section) and now caring for your newborn are all individually major transitions. Postnatal massage supports recovery of all these stages in a gentle and effective way.One major overlooked problem in postpartum recovery are the uterine ligaments. These ligaments are meant to easily expand to accommodate pregnancy however, recovery can many times create complications. One uterine massage after birth will not usually repair the nine months they have endured under great pressure. Especially if there was some type of trauma during delivery (such back labor, cesarean, extended pushing, improper care). These ligaments have a hard time recovering just like the over stretched elastic in your waist band. If they are not properly healed the uterus can not return to it's proper positioning and many can complications occur. Some complications are incontinence, uterine, bladder or rectal prolapse, constipation, scar tissue especially with caesarean fallopian tube blockages and future fertility issues.Getting regular massage and learning to do your own "Self-Care Massage" will assist not only the uterine ligaments and uterus to return to proper place but, will support the harmony of all healing.You can start Postpartum Massage one week after a normal vaginal delivery, six weeks after a normal cesarean and after release of doctors care from any other complications.
"So how would you sum up the benefits of prenatal massage?"
The health of your uterus and it's ligaments will assist you in avoiding common complications such as incontinence, prolapse, scar tissue (especially with caesarean) and future fertility issues. Prenatal massage does more than benefit the mother. Everything a pregnant woman does from her diet and fitness to her relaxation and relative state of contentment – also directly affects the child she is carrying. Study after study has proven that calmness in the mother leads to healthier baby development.
According to a study¹ receiving regular prenatal massage benefits labor by:
25% shorter delivery time
30%reduction in all pain medications
50% fewer cesarean births
60% less request for epidurals
Prenatal massage:

promotes relaxation
reduces edema
reduces blood pressure & relieves varicose veins
improves blood circulation & lymph circulation
facilitates support for respiratory, digestive & elimination
releases neck, back and and other joint pain
relieves muscle spasms and cramps
reduces mental strain, fatigue and depression & anxiety
1. Touch Study Support for Pregnancy by Marshall Klaus, MD