The outbreak of COVID-19 has left parents scrambling. Since my son Christopher (aged 5) has started school, there have been times where I've had to have meaningful conversations with him. Topics such as bullying, being kind to others, sharing, and what it means to be a friend has popped up on more than one occasion. It's difficult explaining these things to a child. As parents, we worry about our children understanding us. I have been lucky, so far, to not have to talk to him about anything too serious. Until now.
School has been canceled for many, if not all, children and the elephant in the room is: how do we explain to our children what is going on?
It's a tough question that I, at first, did not know how to answer. As a parent, I find that sometimes I need to work things out as they come up. I wondered how to relay the importance of this virus and of social distancing in a way that would not scare or alarm him. Christopher, because of talks from his teacher at school, already knew a little about the virus and I had already instilled the importance of handwashing to him since he was small. My son tends to get sick easily, so the topic of handwashing had always been a no-brainer for me.
The first thing I mentioned to him was the cancelation of school. I sat him down and said, "There is something mommy needs to talk to you about. For a while, you won't be going to school." Of course, his initial reaction was glee, and I allowed him that. What child wouldn't be excited to hear that school was canceled, indefinitely?
A few days passed after I told him about school before I mentioned anything else. The hardest part was yet to come: explaining to him that while school was canceled, we also wouldn't really be able to really go anywhere for a while. I worried about him missing his friends, his school routine, his grandma and other family members. I worried about him feeling stressed, overwhelmed, anxious, and sad. Most of all, I worried about him feeling lonely. This thought in particular worried me as Christopher is an only child. I was scared as well, and I needed a few days to process everything.
One day, while we were waiting for our laundry to dry, I took Christopher to an open field by our apartment building. As the two of us were playing soccer, other children started to come outside. "Mommy," he said, "I'm going to ask another kid to play with us." This is it, I thought. It was finally time to explain to him what was really going on. Pulling him to the side, I told him that that wasn't a good idea. He seemed confused and asked me why. I likened the virus to a heavy grocery bag. Though I did use a metaphor, I tried not to sugar coat anything.
The best way to speak to children is to be direct and let them ask questions.
I said, "Let's say you are carrying a really heavy grocery bag. Soon enough, because it is so heavy, you'll give me the grocery bag, and then I'll give the grocery bag to someone else. The grocery bag is the virus. It's a heavy grocery bag that we pass from person to person because it is too heavy for us to carry. Each time we pass the grocery bag to another person, that person has the potential to get sick. It's important, for now, to not get so close to people. We don't want them giving us their heavy grocery bag, and we don't want to give them ours."
Christopher remained sad which was to be understood. I assured him that he was safe and that we were safe together. I explained to him that while we wouldn't be able to go anywhere fun for a while, we could still have plenty of fun in the house. I wanted him to know that this was a perfect time to learn (or enhance!) new or current skills. We would cook, sing, dance, and paint. We would talk about our feelings, especially when we are feeling lonely or sad. I promised him I wouldn't dismiss his feelings (not that I ever do) but it was more important than ever for him to know that he could always speak his truth.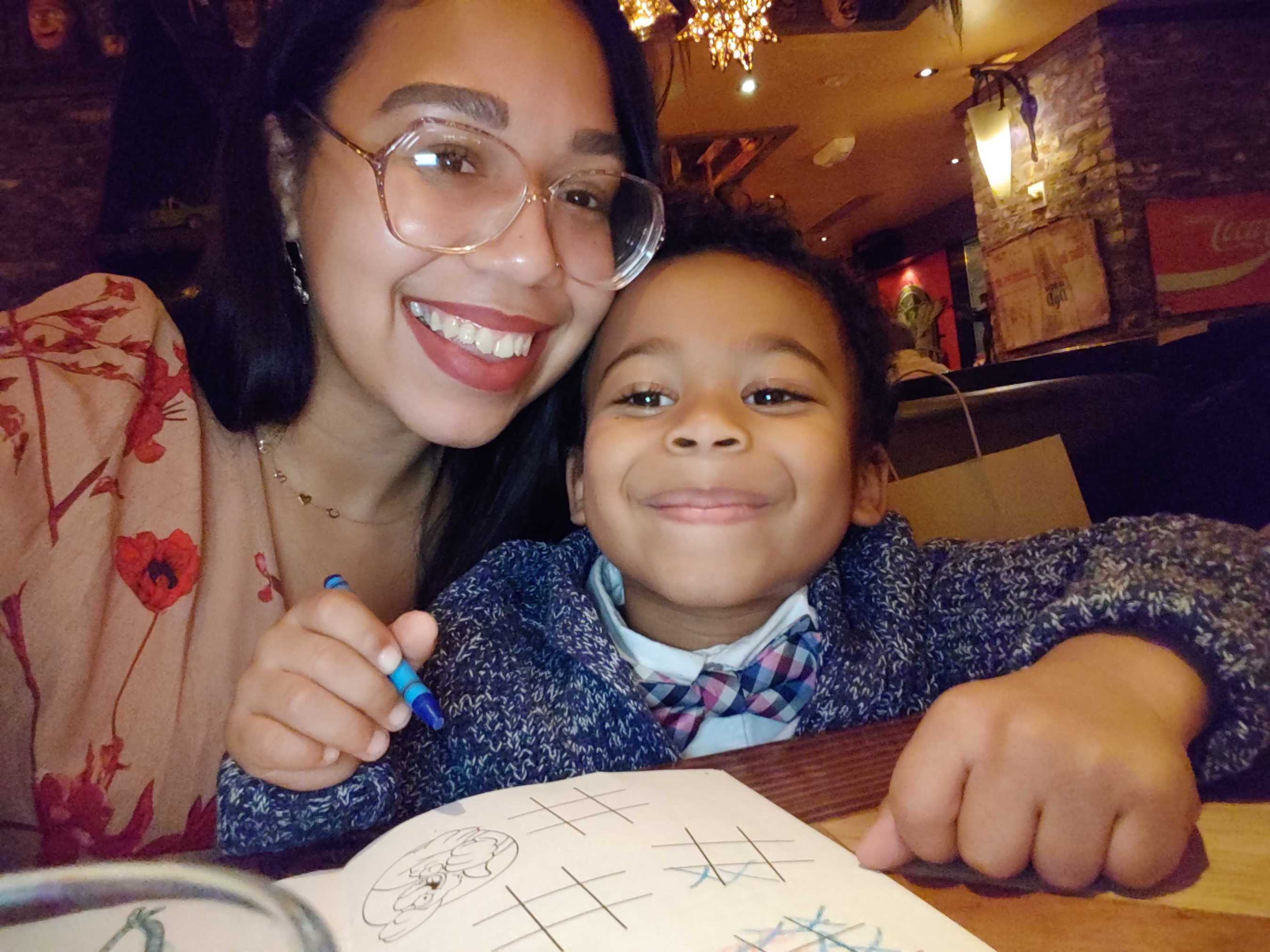 Children often feel emotions that are vastly different than ours. As adults, it can be easy to dismiss kids as being dramatic but their feelings are just as real as ours.
The most important thing I wanted to relay to him was that this, soon, will end. It's important to remain hopeful, even when it seems impossible to do. While this can be a time of uncertainty, the hope that we have can ignite a rainbow – even in the darkest of times.