Chinese medicine and Ayurveda are two sciences that put emphasis on prevention and intuition. We had the honor of chatting with Divya Alter, co-founder of Divya's Kitchen and Bhagavat Life in New York City to learn more about Ayurveda and the role it plays in her life.
How did your journey into nutrition and Ayurveda begin?
My journey into nutrition started earlier in life when I was 18 years old when I ended up in a yoga ashram in Bulgaria, where I'm from. I was an intern at the ashram and my first service was to wash pots and chop vegetables in the kitchen. This is how I fell in love with cooking! In India, the local doctor, who was an Ayurvedic doctor, impressed me with his treatment protocols. He never said "just take this pill or take this herb" instead, he gave a very customized and personalized approach to diet and daily routine. I learned which foods to eat when, both during the day and with the change of seasons.
I started to informally study Ayurveda to maintain my own health and then fell in love with it. This ancient system of health focuses on maintaining good health and preventing disease but it also offers guidance on how to get better if you do become sick. My main teacher is Vaidya R.K. Mishra who was the successor of the Shaka Vansiya Ayurveda tradition. I'm most grateful to him for teaching me a lot of the knowledge and practices that I share in my cookbooks and classes.
Ayurveda is a very broad science and has many components but I focus on its food aspects. My passion is to help people heal with food that is delicious, nourishing, and satisfying for everyday eating.
For those who are not familiar, what is Ayurveda and how does it translate into how you eat?
Ayurveda is the oldest recorded medical system in the world – it historically precedes Traditional Chinese Medicine. It's a very old system that encompasses our well-being on physical, mental, emotional, and spiritual levels.
An essential component of Ayurveda is "what's causing the problem?" When you address the cause, then the symptoms will disappear once the cause is removed. Ayurveda is here to help us heal, maintain good health, or it can help to cure disease. When you go to an Ayurvedic physician, they'll read your pulse, assess your energetic imbalances and then ask not only what you eat, but how you eat it! They'll ask about your digestion, and about your lifestyle. They also consider where you live because your geographic location plays a role in your health too.
Can you tell us a bit about Divya's Kitchen?
My husband, Prentiss Alter, and I started Divya's Kitchen together 4.5 years ago in October of 2016 in the East Village. Our menu is vegetarian/vegan and based on the principles of Ayurveda.
It's a unique place to eat because unlike most restaurants, we only offer freshly made foods. Everything is cooked fresh the day of. We also use a huge variety of fruits, grains, lentils, and vegetables including taro root (which is a part of Chinese medicine as well!). We source only high-quality ingredients and never use hydrogenated oils (such as canola or vegetable oil) that are typical in the restaurant industry. We only use the four best oils for cooking – our house-made cultured ghee, coconut oil, a little bit of sesame oil, and high-quality olive oil. I believe that for food to be healthy and medicinal, it has to be fresh and of the highest quality.
What I try to present at Divya's Kitchen is that healthy food can be delicious, satisfying, and pretty. It represents my belief about food, which is that food is not just for show or entertainment – it's meant to nourish us deeply. We never cook with canned, ultra-processed, artificial, or too heavy to digest foods at our restaurant because they can create blockages in your gut and not nourish your tissues. In general, when I create recipes and menus, we think about "How can we best nourish our guests with our food and entertain them at the same time?"
You recently created a line of food products – what are they and how can people benefit from eating them?
This project started during the 2020 lockdown in New York City. My husband Prentiss and I started brainstorming how to make Ayurvedic food accessible not only for Divya's Kitchen regulars but for people all over the country. We wanted to help people eat healthy in an easy way.
And so we created a line of khichari (or kitchari), or a one-pot, complete protein stew, made of lentils and grains, and can include vegetables. Our Kitchari meal packets are ready to cook. We've done the soaking and washing of the lentils and grains and added the perfect combination of spices and salt for you. Each packet comes with the spices and all you have to do is empty the packet into measured boiling water and it's ready in about 20 minutes! You have to add some olive oil or ghee, and maybe lime juice, and optional vegetables, but that's it! It's a great option for anyone who's busy (new busy moms, people recovering from surgery, or anyone who is newly postpartum).
Our bestselling product is Cultured Ghee, which we make ourselves following the traditional Ayurvedic recipe: we first culture organic grass-fed cream, then we churn into fresh cultured butter, and then we slow-cook it into ghee (the best form of clarified butter). It's extremely nourishing and is great for cooking all year round; it is especially beneficial during pregnancy and postpartum.
The goal with this pantry line is to make Ayurvedic food and its benefits easily accessible to everyone who wants fresh meals in a quick time without compromising nutrition.
The Yinova community is eligible for 15% of their first purchase of Divya's Kitchen products! Use the code "YINOVA" at checkout.
What practices do you incorporate into your daily routine to help maintain balance?
I adjust my daily routine based on how I feel that day. In general, I try to get 7 hours of sleep because I don't function properly and it's hard to feel balanced without it. I typically try to get to bed by 10 pm but that can be a little challenging with nights at the restaurant.
In the mornings I always do a self-care routine. This morning, for example, I was feeling achy so I did an oil self-massage, which is known as Abhyanga, and then took a bath because it helped to relax my muscles. I also try to exercise every day (even if it's just stretching). I definitely cook fresh meals every day as well. I stopped eating leftovers a while ago – I had an autoimmune disease and I've found that eating leftover food takes a lot longer to digest and causes more inflammation in the body. Even if I only have 15 or 20 minutes, I still prepare my meals.
What's one piece of advice you think anyone could benefit from?
Something that I'm more aware of and I have found to be very powerful is paying attention to how much we eat; we often overeat or we don't eat enough because we distract ourselves during mealtime. Make yourself present for your meal. Turn off your electronics and really connect with your food by first smelling it and visually taking it in. Chew mindfully. You'll be surprised by how much more enjoyable your food becomes. Feel that joy and pleasure at the moment and you'll end up being satisfied with a smaller amount of food. You will eat less but enjoy more!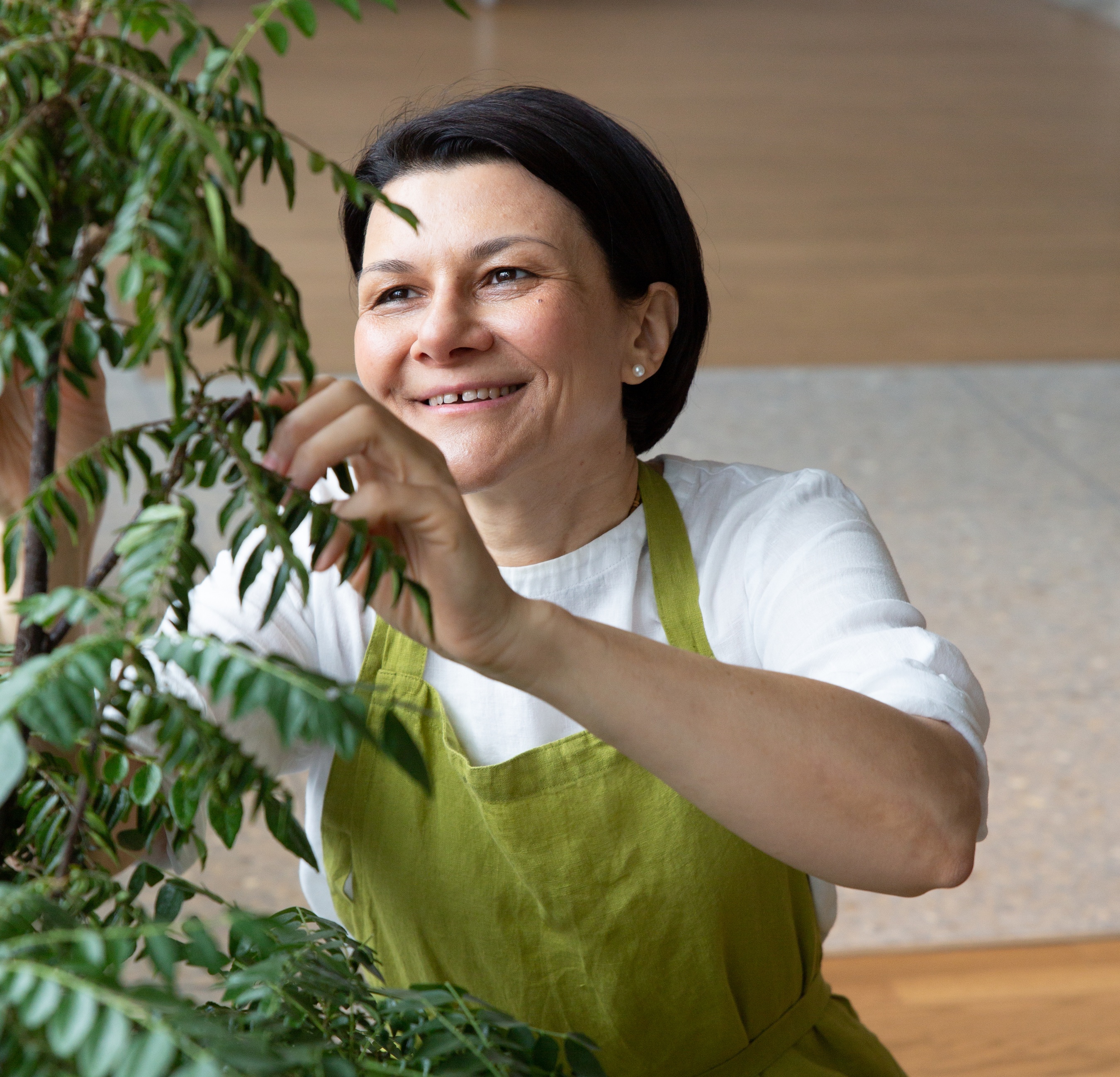 We also want to ask you about Chinese medicine! What is your exposure to it and/or thoughts on it?
I don't really see an acupuncturist right now but I have great respect for Traditional Chinese Medicine. I used to see an acupuncturist regularly when I had an autoimmune disease. Years ago, when I visited China, I went to a local Chinese medicine clinic and I was blown away by the diagnosis and treatments. The Doctor only used 3 needles, but the result was profound. He said "Do you feel anything?" and when I said no, he said, "That's because I found your exact points!"
One piece of advice I have though is if you follow a Chinese medicine treatment then just do that – don't mix it with Ayurveda. The herbs are different and sometimes there might be some interaction. Follow one for a few months and see how it helps you.
What projects are you currently working on and excited about?
I just finished my new cookbook which will be an Ayurvedic guide to cooking by ingredient. If all goes well, it will be published by Rizzoli in the fall of 2022. I'm very excited about it because I present information that is less known – the healing attributes of common foods today that the classical Ayurvedic texts listed thousands of years ago.
We're also developing more pantry products, which we'll announce soon.
A big part of what I do is centered around education through our nonprofit school, Bhagavat Life. We offer online live and recorded classes which are for everyone who wants to learn the basics of delicious, healthy cooking. We also offer a six-month Ayurvedic Nutrition and Culinary Training, our certification program. The Foundations level is taught entirely virtually, and we have students from all over the world.
---
Divya Alter is a certified nutritional consultant, educator, and chef in the Shaka Vansiya Ayurveda tradition. She is the co-founder of Bhagavat Life, the only Ayurvedic culinary school in North America's first Ayurvedic chef certification program. She and her husband Prentiss also own Divya's Kitchen, an Ayurvedic restaurant in Manhattan. Divya is the author of What to Eat for How You Feel: The New Ayurvedic Kitchen (Rizzoli, 2017) — the book is now in its 8th print, along with a new German edition.