Today's blog was written by Jensen Wheeler Wolfe, a certified yoga teacher in Manhattan. She is the creator and owner of The Little Yoga Mat.
As our babies grow and discover the world we live in, sometimes what accompanies this indoctrination is fear, stress and a feeling of over-stimulation. City children, in particular, are exposed to thousands of images and sounds daily, not to mention technology. With this barrage of stimuli it's easy to overload. What can help them is yoga.
Yoga for small children is becoming a staple in preschools around the country. Schools find that the practice helps kids cope and find balance. Children learn to take time to breathe, focus and strengthen their bodies. Kids classes are also playful and stir the imagination.
As children become familiar with yoga poses they can expand on this foundation and carry their practice into adulthood so it's beneficial to start young. Research is proving that boys and girls who practice yoga are more self-confident and better able to focus in school.
Yoga can also help grown-ups bond emotionally with their children creating the foundation for lifelong healthy relationships. By practicing yoga with your baby or toddler a few times a week, your child will increase flexibility, coordination, and concentration.
What many people don't know is that yoga can also aid digestion because the movements promote healthy circulation and deep relaxation. This means better quality sleep for your little one.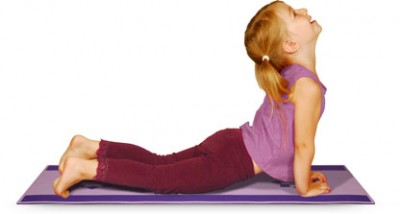 For a few moves to get started with your baby or toddler visit The Little Yoga Mat's "why yoga" page.
The Little Yoga Mat is an eco-friendly, mini yoga mat for toddlers and babies and is sold at the Yinova Center!