A few days ago we introduced you to the Yinova Cleanse and made some general recommendations about cleansing and detoxifying. This coming week several of our patients and staff members are going to be following the cleanse. We have set up a google group to support each other and invite you to join us. If you want to participate you can pick up your kits at our office where we will be happy to answer your questions. Alternatively you can buy one directly from the manufacturer, Blessed Herbs (it's the same price).
Week One – The Colon Cleanse
The first week of the cleanse is devoted to getting your intestines working well. It's important to get your digestive system to eliminate properly before we begin to cleanse other organs. So this week we are going to concentrate on removing old, accumulated waste from your large intestine and making sure that you are moving your bowels regularly.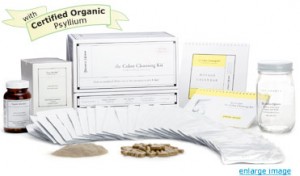 In your kit you will find the following: –
Toxin Absorber ™ This herbal supplement of made of psyllium seed husks, apple pectin, ginger root OR peppermint leaf, and bentonite clay should be taken mixed with water 5 x a day.
Digestive Stimulator™ This supplement contains laxative herbs combined with herbs that tone the digestive system. Everyone will need a different dosage of the digestive stimulator. Experiment by starting at a low dose and build up until you are having 3 bowel movements a day.
A jar for mixing the toxin absorber with water
Complete instructions
During this part of the cleanse it is important that you have at least one, and preferably three, bowel movements a day. You will be taking the digestive stimulator each night to promote a bowel movement but if you find that you have not moved your bowels during the course of the day increase the number of digestive stimulator pills, increase your water intake and give yourself an enema. Refer to the booklet with your kit for more information about this.

Pre-Cleanse – Days 1 -3
The object of the three day pre-cleanse is to gently introduce your body to the cleanse and help you determine how many digestive stimulator pills you will need to have three soft but formed bowel movements a day.
Begin to adopt your cleansing diet as explained in the introductory article
Drink 6 – 8 glasses of water every day
Take the toxin absorber and digestive stimulator every evening (Refer to page 11 in your instruction book to work out how many pills to take)
The Main Colon Cleanse – Days 3 – 7
You will now increase the amount of toxin absorber you take to 5 packets evenly spread throughout the day. This equates to a packet every three hours. You will continue to take your dosage of the digestive stimulator every evening. Remember to drink 6 -8 glasses of water a day.
Food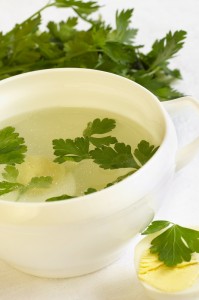 As you know I am not fond of very low calorie diets which I think deplete your metabolism and lead to rebound weight gain. However the main part of the colon cleanse does work much better if you limit your intake of solid food. If you are in good health and feel up to it you can achieve a more intense detoxifying effect by restricting yourself to liquids only. During the pre-cleanse gradually reduce your intake of solid foods and from days 3 – 7 drink juice, nut milks, smoothies, and vegetable soups.
If you decide not to do the liquid diet, simply follow the dietary guidelines below.
Avoid the following foods
Red meat
Wheat
Dairy products
Fried foods
Processed sugars
Processed foods
Coffee
Alcohol
Instead eat predominantly organic fruits and veggies and whole foods and remember to drink plenty of water. If weight loss is a goal you should restrict but not eliminate carbohydrates. Otherwise choose organic whole grains such as brown rice or quinoa.
Here are some meal suggestions that we have found helpful
Ginger Jeweled Salad from one of my favorite blogs 101 Cookbooks
In a hurry green curry again this is from the lovely healthy website 101 cookbooks
Basic Miso Soup – feel free to add chopped veggies to this to make it more substantial
Any of the fabulous detox recipes in this newsletter from Gwyneth Paltrow's website GOOP. I particularly like the salad with carrot and ginger dressing and the detox teriyaki chicken.
If, like me, you are on the run you can always pick up raw veggies and salad at your corner deli and dribble them with olive oil and vinegar
A Helpful Qi Gong Exercise to Benefit the Colon
Every morning stand comfortably and move your arms backward behind your body with the palms facing upwards.
Hold this position for two seconds.
Make a fist with both hands, inhale a tighten your anus
Hold this position for 2 seconds
Then exhale and relax your anus and loosen your fists.
Repeat this exercise 20 times.
Recommendations to Support your Cleanse
Start each day with a cup of hot water with lemon in it.
Eat three small meals and two snacks a day.
Take some time each day to do deep breathing, meditation, gentle stretching or yoga
Get at least 8 hours sleep each night
In the shower brush your skin with a loofah, skin brush or Japanese skin cloth
Drink one 8 oz glass of water or cup of herbal tea an hour. Explore a variety of herbal teas. Green tea is nice first thing in the morning and chamomile tea is relaxing before bed.
Eat small portions and stop eating when you are satisfied.
Eat slowly and chew your food thoroughly
Have a weekly acupuncture treatment to encourage detoxification and to deal with any symptoms that may arise
Once a week place a castor oil pack over your liver. Rub castor oil over your liver on your right side of your upper abdomen from the mid-line out under your ribcage. Place an old towel over the caster oil and put a hot pack over the area and leave it there for 30 – 40 minutes whilst you relax.
Try to walk for at least 30 minutes a day
Good luck and please share your experiences with us. We love to know how you are doing and would be especially interested in any healthy detox recipes you'd like to share.
Next week we will move on to eliminating parasites and cleansing and tonifying the liver and gall bladder.
All herbs in our Yinova Cleanse are supplied by Blessed Herbs. We sell the kits at The Yinova Center or you can buy them directly from the manufacturer.
Please check with your doctor or health care provider to make sure that you are healthy enough to spend a month on a restricted diet. Do not take herbs, vitamins, recreational drugs or over the counter medication whilst you are cleansing. If you are taking prescribed medications please ask your prescribing physician for advice about combining them with this cleanse. The instruction book that accompanies your kit has information about the way in which the cleansing herbs can interact with certain prescribed medications.
Do NOT cleanse :-
If you are pregnant (if you discover you are pregnant whilst cleansing, please discontinue with the cleanse)
If you have an active, acute infection
If you are weak or debilitated
If you are about to undergo or are recovering from surgery
If you are suffering from the following GI problems – diarrhea, vomiting, intestinal infection, bowel obstruction, inflammation of the GI tract, abnormal narrowing of the esophagus or intestines, difficulty swallowing.