Welcome to week two of the Yinova Cleanse.
Last week was all about cleansing our colons. How did you do? Emma and I had a couple of hungry days mid-week but we're now feeling pretty good. This week we will be cleansing the liver and gall bladder. You can read more about the herbs involved here.
In our house we followed a more restricted diet during the colon cleanse so Emma and I are delighted to be eating more solid food and a broader range of foods. We're still abiding by the following restrictions but I must say we're getting used to eating this way.
Avoid :
Dairy products
Red Meat
Alcohol
Coffee
Processed foods (Emma and I have cheated a bit by using some processed foods from the health food store such as rice crackers, rice bread and oatcakes – I'm fine with this)
Wheat
Processed sugars
Shellfish
Optional: Nightshade vegetables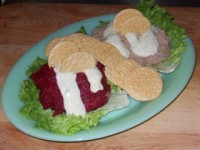 Last night, as we settled down to watch the Golden Globes, I made two detox friendly patés for us to spread on rice crackers. Both are adapted from and inspired by The Angelica Home Kitchen: Recipes and Rabble Rousings from an Organic Vegan Restaurant. Angelica's Kitchen is a great place to eat when you're detoxing and I'm really glad it's just down the road from my office.
Lentil Walnut Paté
Adapted from the Angelica Home Kitchen. (Changed a bit to accommodate what I had in my kitchen.)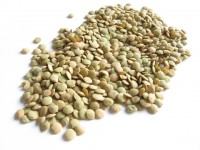 2/3 cup green lentils
2 cups chopped walnuts
1 tbsp olive oil
3 cups diced onions
2 cloves of garlic chopped
1 tbsp mirin
1 1/2 tbsp umeboshi paste (you can use red wine vinegar instead, if necessary, and add extra salt)
1 1/2 tbsp miso
1 tbsp dried marjoram
Rinse lentils, place in a saucepan, cover with water (about 2″ above the lentils) bring to the boil and simmer for 30 minutes
In the meantime roast the walnuts on a cookie sheet at 350 degrees F for 8 minutes
Saute the onions and garlic in the olive oil over a gentle heat for 10 minutes
Drain the lentils and put them in a blender of food processor with the onions, walnuts and all the other ingredients.
Blend until smooth and serve with tofu sour cream dribbled over the top and wheat free crackers.
Beet and Butternut Paté
Adapted from the Angelica Home Kitchen. (Originally a recipe for pumpkin pate but changed quite a bit to accommodate what I had in my kitchen.)
1/2 a cup of sun dried tomatoes (dry packed)
3/4 pound of onions diced
2 cloves of garlic
2 tbsp olive oil
1 lb of beets and winter squash peeled and cut into 1/2 inch cubes
1/2 cup sunflower seeds
1/2 tbsp marjoram
salt and pepper to taste
Boil 2 cups of water, take off the heat and leave the sun dried tomatoes in the hot water to rehydrate for 20 minutes
Toast the sunflower seeds in a 350 degree F oven for 10 minutes
Steam the beets and squash for 20 minutes
Sautes the onions and garlic in the olive oil until soft
Combine all the ingredients in a food processor or blender and blend until smooth. Adjust the seasoning to taste.
Serve with tofu sour cream drizzled on top and wheat free crackers.
Tofu Sour Cream
From The Engine 2 Diet: The Texas Firefighter's 28-Day Save-Your-Life Plan that Lowers Cholesterol and Burns Away the Pounds (I love this book)

1 pack of Silken Tofu
1/3 cup soy milk
3 tbsp lemon juice
2 tbsp chopped fresh dill
1 tbsp nutritional yeast
Blend all ingredients together in a blender or food processor until smooth.
Cover and chill for at least an hour to allow the flavors to blend