Currently viewing the tag: "books"

"How would your life be if you lived with a heart fully open and free and you knew that your story mattered? Think about this for a moment as you come and sit down with me. Imagine we're sitting under an olive tree on a midsummer afternoon, sharing a Greek picnic of olives, feta cheese, fresh garden tomatoes, home-baked bread, a wonderful chilled Greek wine, some watermelon and some grapes, and sharing the joy of simply being alive. While the breeze wafts away our worries, I offer you my stories, from my open heart to yours."
-From Unbinding the Heart: A Dose of Greek Wisdom, Generosity, and Unconditional Love

 by Agapi Stassinopoulos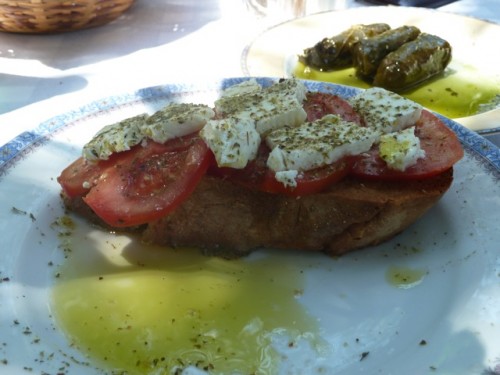 Agapi Stassinopoulos and I were introduced by a mutual friend who thought I would like her latest book, Unbinding the Heart: A Dose of Greek Wisdom, Generosity, and Unconditional Love

. Agapi was kind enough to send me an advanced copy of the book and my friend was right, I loved it. What's more, as I got to know Agapi, I began to realize that her life's journey has led to her "unbinding" her own heart, making her one of the most delightful, warm and wise women.
The book begins in Greece where Agapi shared a childhood with her sister, Ariana, in a family that had been profoundly impacted by the Nazi invasion during World War 2. Agapi's father had been imprisoned in a concentration camp, as a punishment for publishing an underground newspaper, and her mother, Elli, had risked her life working for the Red Cross. Elli was, by all accounts, a remarkable mother and the wisdom she passed on to her daughters runs like a brightly colored ribbon through the book weaving Agapi's stories together. Elli's determination for her daughters led Ariana to study at Cambridge and then to a career as a writer and political commentator. She is now the president and editor-in-chief of the Huffington Post. Agapi, meanwhile, studied at RADA and became an actress, producer and writer. She has published three books and is now a motivational speaker and a regular contributor to her sister's website.
As Agapi's stories unfold she takes the reader with her as she gently explores the lessons she's learned. She describes her disappointment as her acting career failed to live up to its early promise and how she used these feelings to find her path. She tells of being double-crossed when producing her first movie and how the pain of betrayal made her feel quite stuck, telling her story over and over again, until her mother simply says, "turn the channel, dear" and she realizes that moving forward, after being hurt, is a choice.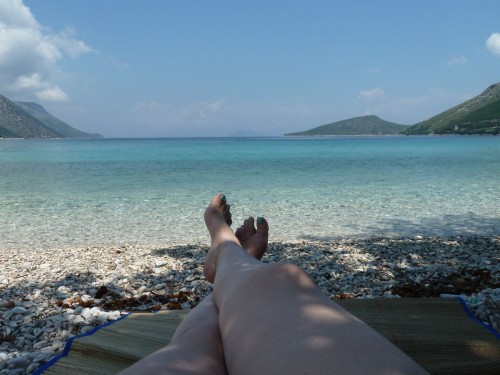 Unbinding the Heart

follows Agapi's life as she moves from Greece to England and then both coasts of the USA but it is no accident that the book ends, like Odysseus's journey, back in Greece on the island of Ithaca. Ithaca is a magical place that is very close to my own heart. The picture of Greek food at the top of this page and the pictures below of toes on a rocky beach and a view from a window are mine, taken in Ithaca during a particularly trying time in my own life when I too was coming to terms with betrayal. I wish I'd read Agapi's wonderful life-affirming book then, because if I had I may have learned to "turn the channel" sooner. Agapi was kind enough to answer some questions for our YinOva community.
You can read my interview with Agapi here
More