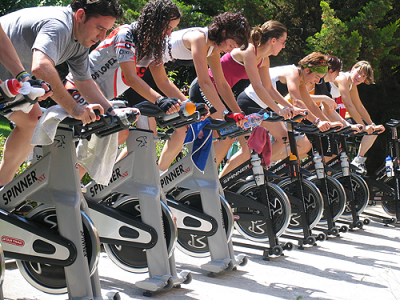 Winter getting you down?
We're all a bit sick of the snowstorms and sludge and we miss the warmth of the sun… But one of the best ways to snap out of it is through exercise!
Find an activity you love, indoor or outdoor, from the gym to Central Park – your options are endless. My own salvation is group fitness classes – the music, the energy, the camaraderie, and the sweat propel me to another place, a happier place! Activity is my moving meditation. In fact, ask a committed fitness fanatic what's the draw and they'll tell you exercise is beyond the physical, it's mental.
Dubbed Spinagogue by Jill Kargman, because of its cult-like devotees, group spin is a personal favorite. It's 45-minutes of sheer energy; a give and take between you and the instructor powered by the music. Darryl Gaines, one of the hottest spin instructors in NYC, is my Guru. His spin class, TranscendCycle, delivers! Truly, it's like you transcend the physical – your spirit soars and the music moves you. Darryl inspires us to push ourselves beyond what we thought possible. We sweat and we ache but yet, we feel on top of the world.
It doesn't have to be at the gym and you don't always have to sweat, but for your spirit, for your health and, most importantly, for yourself – find your Darryl. Find the activity that transcends you. As Darryl says: "Because You Can!"