Healer 2 Healer is an international healing exchange that reaches out to indigenous communities in Guatemala. I joined Healer2Healer a few months ago for my second trip with them; this was the 11th visit made by a small group of volunteer practitioners and students of Chinese medicine and Reiki. The intent is to support to the  Q'anil women of Quiché and Coban in their community health initiatives, provide training in auricular acupuncture, cupping, gua sha, moxa and Reiki attunements. We learned Mayan massage techniques, indigenous herbal remedies and participated in ancient Fire Ceremonies.  Our reciprocal learning and teaching bridged the cultural divide opening our hearts to healing on many levels. The women of Coban and Quiché have participated in past trainings and have been able to take what they have already learned into their communities where they have been well received and very effective. Some of the women have been using Reiki on their land to improve crop yield with wonderful results.
Each clinic day would start at 8:30, with people already lined up for registration.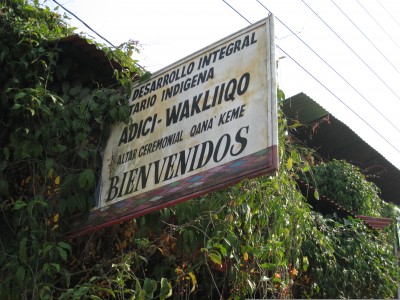 First each patient would enter a healing circle to receive a sage smudging, auricular acupuncture and Reiki before proceeding to our clinic space for acupuncture and an herbal remedy.
We had 7 treatment rooms & 3 acupuncturists that saw almost 200 patients in the 4 clinic days.  Our day usually was not over until about 7 in the evening when the last patient left. We learned later that some people left their homes at 3 am traveling many hours and miles in the back of a pick-up truck to be able to attend clinic. No one was turned away.

The response was overwhelmingly positive. We saw patients of all ages with a wide range of health issues. We had two interpreters with us all day to help us translate from an ancient Mayan dialect K'iche', to Spanish then to English. In a country with 23 different languages we managed to communicate pretty effectively.

Herbal remedies were available in tinctures, salves, balms, teas and oils. [pq]All of the herbs are gathered from specific protected mountains, harvested by hand and prepared by the local women.[/pq] In prescribing, the practitioner uses a modified "O –Ring" test to determine the appropriate medicinal for each patient.

Living close to the land and her resources is a way of life. Here is our milk man, making deliveries at 7 am.  Just load the goats into the pick-up, stock up on some cups, milk the goat on the appointed rounds for what is needed. No waste, no muss, no fuss. The milk was still warm as it arrived to our breakfast table.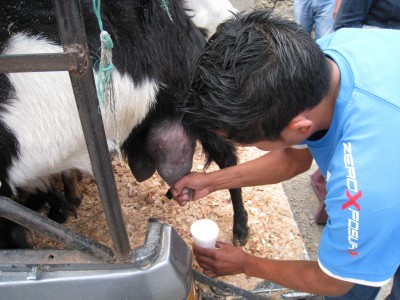 In preparing for our daily clinics, we all participated in morning and evening circles to express our gratitude, ask for guidance or release the burdens of the day.

This photo is of the Shaman and his wife who guided the Fire Ceremony at the beginning of our clinic week. The fire pit and alter are adorned with flowers. Copal and wax candles will create the fire the Shaman will read and interpret for us. He guides us to acknowledge and give respect to spirits of the 4 directions. He asks the spirits of fire, water, earth and wind to assist and protect all the practitioners in the work week ahead and to be clear conduits of healing for all the people who will be visiting.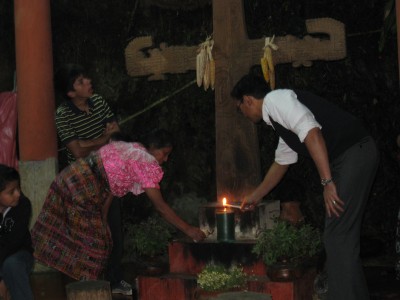 Spirituality is an important part of Mayan culture. There is a clear strong awareness of the connection between mind, body and spirit. There is a reverence for the life and the land that is part of everyday practice.

Certificates of achievement Reiki Master Level awarded Paulina, Magdalena, Dolores and Delphina. Now they will be able to teach Reiki to other members of their community. Healing is infectious!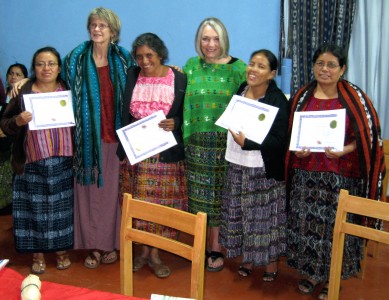 This was our last night in Coban, Guatemala. We all celebrated with food, music and dance. We could not thank our gracious hosts enough for a memorable week. We all learned so much about each other and ourselves.

It was a most wonderful, rewarding, intense, exhausting week – glad I didn't miss it. It was hard to choose just several pictures, so I have decided to add a few extra pictures to the end of this post. Enjoy!