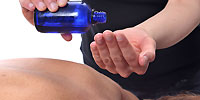 We offer a wide range of massage techniques so you'll be able to choose one matched closely to your needs:
Mayan Fertility Massage ™ enhances fertility by increasing blood flow to the reproductive organs. 
Pre-natal massage is as gentle and soothing as it is therapeutic.
Post-natal massage is a treat for, as well as a help to, new moms.
Infant massage teaches parents how to massage their babies for soothing, comforting, and bonding.
Circulatory massage is relaxing. It lowers levels of the stress hormone cortisol, reduces blood pressure, and lifts spirits.
Deep tissue massage for musculoskeletal problems can help ease pain and relieve stiffness.
Neck and shoulder massage aims at relieving headaches by easing tension and reducing pain.

And last but never least, the famous YinOva V-Steam helps with fertility, menstrual and pre-menstrual symptoms, menopausal and pre- and peri-menopausal issues — and is very relaxing besides. It may require a bit of explanation though.