With school being closed, it can be challenging to find fun activities to do with your children.
My son is five years old and personally, he is way more creative than I am! I, like most adults, am not as in tune with my imaginative and creative side like he is; this comes naturally to children.
It can also be quite hard to keep a child engaged in the activity you choose. As parents, we want our children to have fun; we also want them to learn a new skill or enhance their current ones!
My mission was not a simple one; I sought out to find (and make!) as many fun and engaging activities for Christopher as I possibly could.
I wouldn't be truthful if I said it wasn't, at times, frustrating. Parents are only human after all. Trial and error is something we must accept as parents; there is no manual for us. However, there are plenty of parents with tricks up their sleeves who are happy to help! Here are some tried and true activities that really engaged my Christopher, and brought us closer together.
Ninja Focus Meditation App for Kids
Working from home (for both of us) has been extremely tough, especially when we didn't have a solid way to start our day. We are so used to the routine of waking up, getting our kids, and ourselves ready for work and school that we didn't need to think of any other way to start our day. Being on the go has been normal for so long. Staying active is crucial at this point. Our outdoor activities are becoming more and more limited with each passing day. This is hard for us as adults, but it is much harder for our precious children. While browsing the app store for meditation apps, I came across this one: Ninja Focus. It is a meditation focused app for kids!
The app is designed like an island, with six different areas to explore. Meditation Rocks, Sleepy Shores, and Mindfulness Mountains are just a few! Meditation Rocks is divided into four sections, and each section has at least six different meditation exercises. The exercises include deep breathing, which I found to be extremely helpful. Kids do not know how to self-soothe, and practicing how to take deep and calming breaths can help your child learn this skill.
Christopher really enjoyed this activity. We do it every morning to start our day, and every night before going to bed. In the app, Sleepy Shores is divided into three sections: Lullabies, Dreamscape, and Bedtime Stories. We use Dreamscape the most, as it has ten different guided meditations to help your little one wind down and escape sweetly to their dreams.
A Science Experiment
Having our children learn from home can be tough. Since they're not in a school setting, it can be hard for them to stay focused. Personally, when it comes to my own child, this is something we struggle with! Of course, we have to be understanding; this is a big change and it is much harder for them than it is for us.
Doing a fun science experiment with your child is an excellent option! Not only will it help them learn, but they will also have fun (which is very important!) Last year, I bought Christopher a book filled with different science experiments called, Awesome Science Experiments for Kids. Honestly, we never got the chance to do any due to our busy schedules. Luckily, now we have plenty of time to try out a few!
The experiment we chose was a simple one, and it can be done with staple household items. You will need:
Ziploc bag

water

a couple of sharpened pencils
The experiment:
Fill the bag about 3/4 full of water. Squeeze out any air and make sure it is zipped up tight.
Hold the bag in one hand and use the other hand to stab a sharp pencil all the way through the bag and out the other side.
Continue with more pencils if you have them!
It is best to do this experiment over the sink, just in case! The point of the experiment is to puncture a Ziploc bag filled with water with as many pencils as you can. Will the Ziploc bag leak? Absolutely not! The book explains the science behind it. I've included a picture of the experiment, along with a picture of a happy Christopher!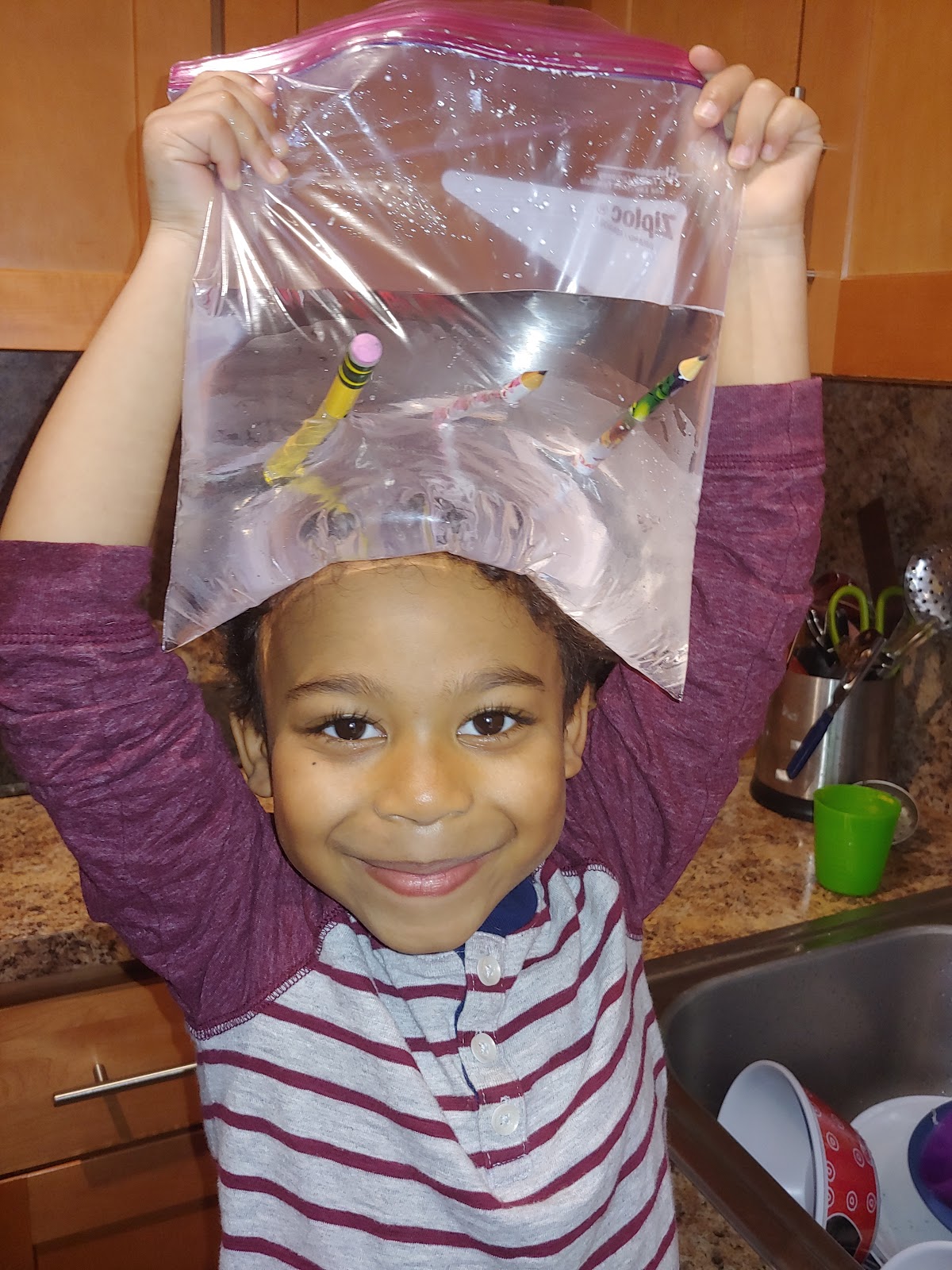 Have Your Child Make Your Lunch
Cooking is a big part of daily life; food can really bring people together! This week, while making Christopher's lunch, he asked if he could make my lunch for me. I happily agreed. I know this brought him a sense of fulfillment. When he brought my lunch to me and after I thanked him, he said he was just "doing what he could to keep his family safe."
It made me both happy and broke my heart to hear him say that. Christopher is only five, yet he felt such a huge sense of responsibility in making my lunch; he felt like he was really doing something beneficial for me, and he most definitely was. It was a moment I will never forget. The lunch of your choosing doesn't have to be anything fancy or complicated! In fact, I chose something very simple: a tuna sandwich.
I did have him cut up some cucumbers for me (under my supervision, of course!) which really made him feel like a big boy. Seeing his smile while doing this is a picture that will forever be engraved in my head.
Just being present is enough
All in all, it truly does not take much to keep our children occupied and happy during these difficult times. If I could offer a word of advice, it would be this: when this is all over, our children won't remember all the times we were frustrated; they won't remember the times we cried because we felt like we weren't doing enough as mothers or fathers; they won't remember the times where we had to beg them to do homework (laugh out loud!)
They will remember, however, all the times we held them. They'll remember all the times we told them they were safe with us, and how often we hugged or kissed them. Our children will remember how often we took a break from working from home to simply play with them or sit with them.
Time passes very, very quickly. Our children often grow up so fast that by the time they are eighteen, we wonder how it happened. Christopher is only five, and yet I still question how quickly time has passed.
Yes, this time is difficult. However, think of it as a blessing in disguise. As working parents, or busy parents in general, how often have we had the time to truly be present with our children? We have the time now, and we might as well cherish every bit of our children while we're still able to.