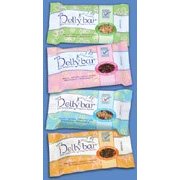 Are you sick of your pre-natal vitamins? One of our lovely Yinova "Moms-to-be" emailed me with this great suggestion. She has developed a taste for belly-bars from a company called Nutrabella. These tasty snacks are fortified with all the nutrients women need when they are trying to conceive or pregnant. When I looked at them I was impressed to see that not only do the bars contain all the vitamins and minerals you need but also omega 3 fatty acids which have been shown to be important to your baby's development.
The bars come in the following flavors
Tell me what you think.